Uncle and Aunt trike tour – Kyla's 25.03.23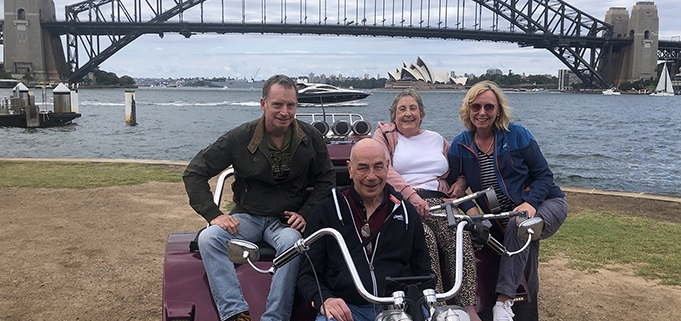 Troll Tours Pty Ltd
The Uncle and Aunt trike tour was organised as a surprise by Kyla, their niece. Paul, the uncle, is really bike mad so she thought it would be a fun and memorable experience. They are from the UK so this sure was a way to make sure their holiday was the best! Our trike riders picked them up from their hotel in the CBD and dropped them off at Manly. Here they could have lunch and catch the ferry back into town.
Review
"I arranged a trike tour as a surprise for my bike mad Uncle who was visiting from the UK. Two trikes arrived noisily at our hotel and my uncles face lit up. He couldn't believe it when I told him they were our ride to Manly! Uncle loved every moment to it, and we got some amazing photos that will be treasured for a lifetime.

He said it was the highlight of the weekend for him.

Thanks to Brian and Dean who succeeded on getting my aunt up onto a trike, despite her current mobility challenges. The ride meant she was able to see parts of Sydney she would never have otherwise seen.
Fantastic experience and worth every cent!"
Kyla
Opera House + Sydney Harbour Bridge
Firstly, they rode to the Sydney Opera House. We can't get very close but we know some good angles which give some great scenic views. Then it was over the Sydney Harbour Bridge. We always tell our passengers to look up and enjoy the unique view. The more than 6,000,000 rivets are so interesting and the arch is so iconic. It's nicknamed 'The Coathanger' because of its arch-based design. It is the largest steel arch bridge in the world. This bridge is the eighth longest spanning-arch bridge in the world and the tallest steel arch bridge, measuring 134 m (440 ft) from top to water level. It was also the world's widest long-span bridge, at 48.8 m (160 ft) wide, until construction of the new Port Mann Bridge in Vancouver was completed in 2012.
Kirribilli
Next, they rode past Kirribilli House. Kirribilli House is the secondary official residence of the Prime Minister of Australia. After that, they rode around the corner to Jeffrey Street Wharf. From here, the views across Sydney Harbour towards the Sydney Opera House and the CBD are magnificent. In addition, it also has an up-close view of the side and underneath of the bridge. A perfect place to stop for photos.
The Kirribilli Loop
They rode under the north side of the bridge and continued on their tour. The underside of the northern end of the SHB – Sydney Harbour Bridge – is very interesting. The Kirribilli Loop was finished by riding past Luna Park and the North Sydney Olympic Pool.
Blues Point Reserve
Continuing on, they rode on through Milsons Point, did a left hand turn and rode up a few streets. This lead to Blues Point Reserve. The views over Blues Bay towards the Sydney Opera House, the Harbour Bridge and the CBD are just stunning. All the more stunning because of the lovely weather. Another perfect place for photos.
lower North Shore suburbs
Continuing east, they rode through Cremorne, Mosman and down past the Taronga Zoo to Bradleys Head. Make sure you look for the koalas eating and sleeping in the gum trees. So far, the surprise Uncle and Aunt trike tour is a huge success, very interesting and fun.
Bradleys Head and Balmoral Beach
Similarly, Bradleys Head has wonderful views across Sydney Harbour to the Sydney Opera House, Harbour Bridge and the CBD. Riding on, they rode past the lovely posh Balmoral Beach. Everyone who comes here loves it! Balmoral Beach is not so well known by visitors and tourists, but the stunning natural beauty of the beach and surrounds make it well worth a visit. Crossing the Spit Bridge is fun, it has great views of Middle Harbour.
After Balmoral Beach they continued on past, Seaforth and Clontarf before stopping at Tania Park. Tania Park is on Dobroyd Head with stunning views looking across Sydney Harbour and through North and South Heads. Arabanoo lookout at Dobroyd Head is named in honour of Arabanoo, the first Aboriginal man to live among European settlers. It's a great spot for whale watching, offering views over North and South Head and the Pacific Ocean. This is where the photo was taken.
Manly + Queenscliff
Then it was down the hill into Manly. They rode past Manly Beach and up past Queenscliff, which is really northern Manly. Up to Curl Curl to see one of our favourite beaches. However, the 1.5 hours was almost up so Brian and Dean dropped them off at Manly Beach. There is a long restaurant strip here.
In conclusion, the surprise Uncle and Aunt trike tour was a big success. Our passengers saw areas of Sydney that they had never been to before. Feel the Freedom.
https://www.trolltours.com.au/product/the-north-shore-skimmer-trike-tour/
https://www.trolltours.com.au/wp-content/uploads/2023/03/Uncle-and-Aunt-trike-tour-Kyla1.jpg
511
681
Kat
https://www.trolltours.com.au/wp-content/uploads/2016/08/logo.png
Kat
2023-03-28 23:21:51
2023-04-01 18:22:20
Uncle and Aunt trike tour – Kyla's 25.03.23