Harley ride of Blue Mountains – Rachelle + Roula 06.05.23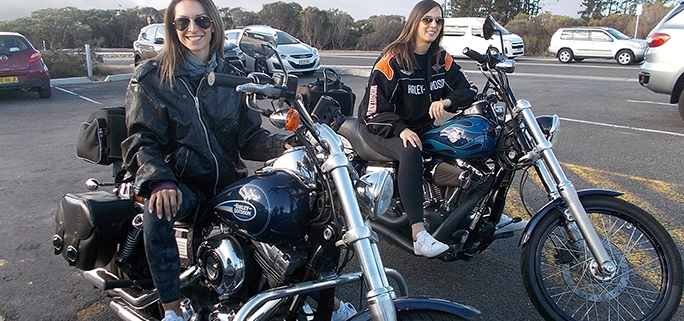 Troll Tours Pty Ltd
The Harley ride of Blue Mountains was a lot of fun for these two sisters. Our Harley riders picked them up from a prearranged place in Springwood, on the lower Blue Mountains.
Testimonial
(5 green circles) ???? Awesome way to tick this adventure off our bucket list
Tripadvisor review: Troll Tours
My Sister and I went on a 2 Hour Blue Mountains Harley Tour with Troll Tours. We had Wayne and Ron for the tour and those gents were amazing!
Riding for the first time on a bike, the guys made us feel safe and comfortable! The scenic tour was so great as well. Overall, it was fantastic and highly recommended.
Rachelle
Springwood
Springwood is the second largest town in the Blue Mountains. It was named by Governor Macquarie in 1815 when the Governor and his wife stopped by a spring for water down a deep glen. It is 71kms west of Sydney CBD and has a 371m elevation.
Great Western Highway
The Great Western Highway is a 202-kilometre-long (126 mile) state highway. From east to west, the highway links Sydney with Bathurst, on the state's Central Tablelands. It's a great road to get on the Harley and ride! So, our riders rode up the highway toward Katoomba through the winding bends at Linden & Bulls camp, giving the passengers a good feel of what riding is all about.
Leura Village
Next, they went into the garden village of Leura, showing the autumn trees with the leaves turning reds & yellows. What a great time of year to see this. Leura is arguably the prettiest village in the Blue Mountains. It's has character-filled heritage homes, glorious cool climate gardens and a National Trust-classified town centre lined with cherry trees that sends Instagrammers into a frenzy during blossom season.
3 Sisters at Eagle Hawk Lookout and Narrow Neck Lookout
After that, it was to a spectacular view of the 3 sisters as seen from Eagle Hawk Lookout. After that, they rode past Narrow Neck Lookout for a quick look down into the Megalong Valley. So far, the Harley ride of Blue Mountains has shown the passengers some beautiful sights.
Megalong Valley
The name Megalong Valley is said to be derived from an Aboriginal word thought to mean 'Valley Under The Rock', Megalong Valley is Gundungurra country. The first record of a European coming to the valley was of Thomas Jones, a natural history specimen collector, who followed the course of Coxs River from in 1818. The first land was taken up by settlers in 1838.
Wentworth Falls Lake and Lincolns rock.
Back on to the highway & past Wentworth Falls Lake, where there is yet another beautiful view of part of the Blue Mountains. A few kms down the highway they turned off to Lincolns rock. It's a popular cliff-edge overlook offering sweeping vistas of the Blue Mountains & forested valleys below.
However, the 2 hours was almost up so the Harley riders dropped the passengers back at their car in Springwood. In conclusion, the Harley ride of Blue Mountains was so fun and memorable. "The girls were thrilled with the tour & say they want to ride again." Feel the Freedom! https://www.trolltours.com.au/product/design-your-own-ride/
https://www.trolltours.com.au/wp-content/uploads/2023/05/Harley-ride-of-Blue-Mountains-RacRou1-1.jpg
513
684
Kat
https://www.trolltours.com.au/wp-content/uploads/2016/08/logo.png
Kat
2023-05-09 20:28:36
2023-05-11 20:18:52
Harley ride of Blue Mountains – Rachelle + Roula 06.05.23