81st birthday present Harley – Mira 31.08.23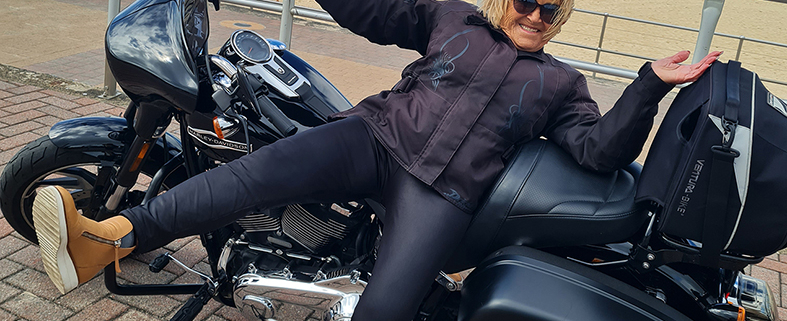 The 81st birthday present Harley ride was given to Mira by a friend. We did need to check Mira was fit enough to swing a leg over the Harley. The friend said' "Mira is a fit and agile person and she's very vibrant and excitable. She will love having photos taken of her and she loves to post on FB. If she can get a few photos of her posing, she will be very happy."
As you can see, Mira loved the Harley Davidson ride and is exactly how the friend described her. Our Harley rider picked her up from home in the southern beachside suburb of Maroubra.
Maroubra
In 2006, Maroubra Beach was honoured by becoming the second only Australian beach to be declared a national surfing reserve, the first being the famous, wild and spectacular Bells Beach in Victoria. Maroubra is a local Aboriginal word meaning place of thunder.
Firstly, they rode past Maroubra Beach and headed north through South Coogee.
Coogee Beach
This leads to, Coogee which is taken from a local Aboriginal word koojah which means "smelly place" owing to the amount of seaweed that can collect on the beach. But daily beach cleaning by Randwick City Council staff keeps the beach in pristine condition year-round.
Coogee Bay Hotel
Of course, no visit to Coogee is a success unless you ride past the Coogee Bay Hotel. For 150 years, Coogee Bay Hotel has hugged the stunning coastline of Coogee Beach. There's always been a playground in these heritage buildings. Coogee Bay Hotel was a school in the 1860s, before conversion to a hotel in 1873. Now it is a local favourite which brings visitors and locals together (from their website).
Clovelly Beach
Further north, on the coast is Clovelly Beach. It is a small beach that sits on the end of the narrow bay. The bay is home to one of the first surf lifesaving clubs in the world, Clovelly Surf Life Saving Club, which was founded in 1906. So far, the 81st birthday present Harley ride, Mira has seen some great views and scenic sights.
Bronte + Tamarama Beaches
Riding on, along more beautiful, though possibly less well known, beaches. Bronte Beach sits on Nelson Bay, surrounded by Bronte Park. Bronte offers scenic cliff-top walking paths south to Coogee via the Waverley Cemetery and north to Tamarama and Bondi Beach.
The suburb of Tamarama has a small ocean beach about 1 kilometre south of Bondi Beach and a couple of hundred metres north of Bronte Beach. It is an extremely narrow beach and deceptive for its size. Tamarama Beach is often referred to as Glamarama (or Glamourama), owing to the alleged abundance of glamorous people who sunbathe (often topless), on what must be one of the smallest strips of sand in the state (Wikipedia).
Bondi Beach
Next, they drove past the world famous Bondi Beach to the south side. Looking from the two ends of the beach give a different perspective. This is the beach where Bondi Lifeguards of the Bondi Rescue TV series is filmed. When in Sydney it is one of the places you should visit. The beach is seriously nice (but not our favourite) and we usually stop near the lifeguard station, made famous by the TV series "Bondi Rescue". Bondi Beach is one of the most visited tourist sites in Australia. Bondi Beach is recorded by the Australian Museum that Bondi means place where a fight using boondi sticks (nullas nullas or fighting sticks) took place.
North Bondi and Brighton Lookout
There are a couple of lookouts at the North Bondi headland. They all offer beautiful views of Bondi Beach and out to the Tasman Sea, part of the South Pacific Ocean. However, the hour was nearly up so they turned around and headed back to Maroubra.
In conclusion, the 81st birthday present Harley ride, Mira has seen some great views and scenic sights. For more information, check out our design your own tour page.
https://www.trolltours.com.au/wp-content/uploads/2023/08/81st-birthday-present-Harley-tour-Mir1.jpg
839
787
Kat
https://www.trolltours.com.au/wp-content/uploads/2016/08/logo.png
Kat
2023-08-31 23:12:16
2023-08-31 23:12:18
81st birthday present Harley – Mira 31.08.23