USA Friends 08.02.19 – trike adventure around Sydney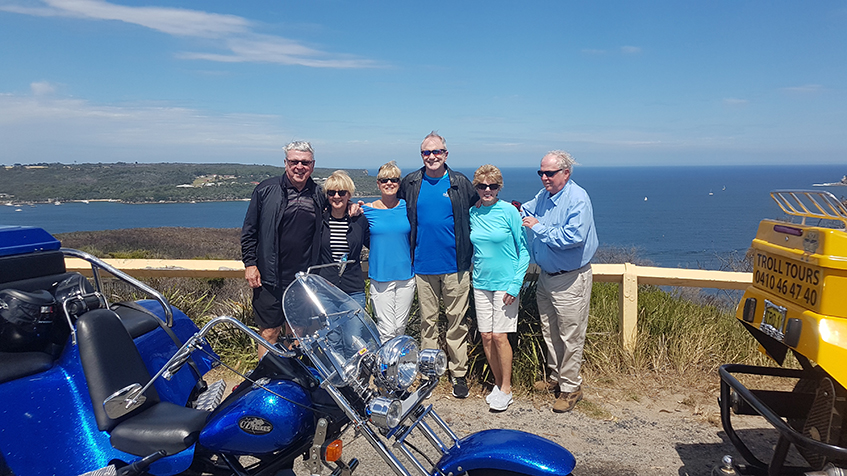 A trike adventure around Sydney was exactly what our passengers from the USA wanted to do. They wanted to do something out of the ordinary so we took them for a ride on the northern beaches.
Firstly our three Harley trike riders took the three couples over the Sydney Harbour Bridge to Kirribilli. We always stop there or at Blues Point Reserve because of the views. Both places have wonderful views over Sydney Harbour towards the Harbour Bridge and the Opera House.
They then continued travelling north along the northern beaches. First stop was a "secret" lookout at Balgowlah. Almost no-one except the locals know of its existence. There is a great view looking down on the Spit Bridge and the boats moored. The view also looks towards Clontarf and the Heads, we can almost see Balmoral Beach.
The beaches north of here are beautiful, just riding past them makes us feel relaxed. We reckon they are heaps nicer than Bondi Beach but it is up to you to make your own mind up. Next stop was Dobroyd Head with its fantastic views towards the Heads – north and south. The view betweent eh two heads is of the South Pacific Ocean.
They travelled as far up as Narrabeen before turning around and heading back. There are four beaches along the Narrabeen stretch of beach, North Narrabeen, Narrabeen, South Narrabeen and Collaroy beach. They did ride back on a different road, a road which has one of the fastest speed limits in Sydney. It is surrounded by trees and nature on both sides. Sometimes kangaroos and wallabies are seen on the ride.
They continued south to the inner west where they travelled over the next two bridges (of the 3 bridges ride). We love the three main bridges (Sydney Harbour Bridge, Gladesville Bridge and the ANZAC Bridge) of Sydney so we reckon this is one of the best rides we do. We reckon our passengers had the ultimate ride – the northern beaches and the bridges all in one!
If you'd like to do this trike adventure around Sydney or something similar contact us to organise it. We can adapt it to go wherever you have on your list of places to see.
https://www.trolltours.com.au/wp-content/uploads/2019/02/Harley-trike-adventure-around-Sydney-USA1.jpg
476
847
Kat
https://www.trolltours.com.au/wp-content/uploads/2016/08/logo.png
Kat
2019-02-12 23:13:59
2019-02-12 23:15:24
USA Friends 08.02.19 – trike adventure around Sydney