Jennifer + Joy 09.02.19 – 90th birthday party trike transfer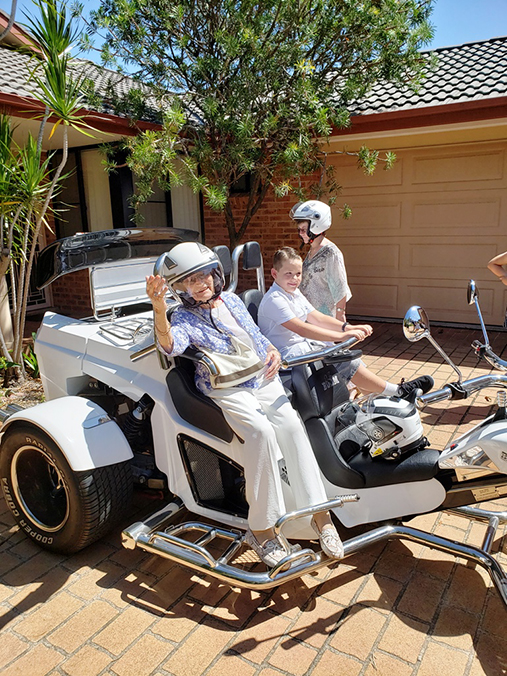 Joy's son organised a 90th birthday party trike transfer from the whole family. It was a great surprise for her and it was something Joy had never thought about doing before. Jennifer, Joy's daughter, came along on the ride as well.
Kym our trike rider picked them up at home and even though the destination was only a few kilometres away, they went on a one hour adventure. Kym knows the south eastern suburbs of Sydney very well so they had a really fun time. They rode past places such as Cronulla State Park, Taren Point and San Souci.
Finally the time arrived when Kym dropped them off at the surprise birthday party. It was a huge and unexpected surprise but reaching 90 is such a milestone and one that needs to be celebrated. The whole day was a great fun.
The 90th birthday party trike transfer was such a great idea and a huge success. We can organise a trike transfer for you as well – and you don't have to be 90! ?
https://www.trolltours.com.au/product/design-your-own-ride/
Cronulla State Park is a lovely area with a good beach walk to do. Walk south and you'll reach Oak Park ocean pool and barbeque area, and just a little further on you'll take the small incline up to Bass and Flinders Point. The monument will give you information about these two explorers from Captain Cook's ship, who explored and named the Port Hacking in 1796 in their little rowing boat called the Tom Thumb II.
The Cronulla Beach Walk follows more than four kilometres of coastline south from Wanda Surf Lifesaving Club to Bass and Flinders Point, where the Hacking River meets the Tasman Sea. You can start the walk from any point along the Esplanade. We can drop you there after a Harley or trike ride.
https://www.trolltours.com.au/wp-content/uploads/2019/02/Harley-90th-birthday-party-trike-transfer-JenJoy1.jpg
676
507
Kat
https://www.trolltours.com.au/wp-content/uploads/2016/08/logo.png
Kat
2019-02-13 18:27:17
2019-02-13 18:27:38
Jennifer + Joy 09.02.19 – 90th birthday party trike transfer