Brett + Ray 18.04.19 – 50th birthday trike ride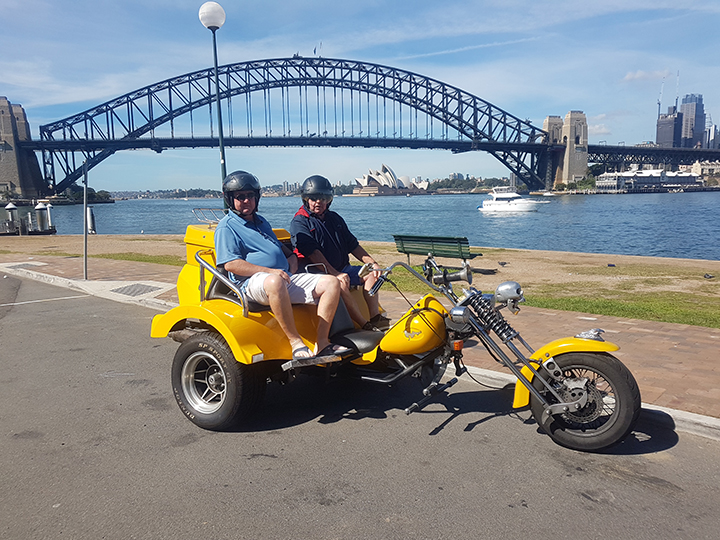 Brett was given a 50th birthday trike ride from his daughter. She bought a gift voucher from us only last week. Krista knew he was coming to Sydney and thought it would be something different and fun. Not the usual 'ties and socks'. Brett made made full use of gift voucher and organised the ride with us.
The 50th birthday trike ride
Craig picked them up from their hotel in the CBD. They rode through the interesting Chinatown at Haymarket. Next, they rode through the historic Rocks area and past Pier One. It is a posh hotel which overlooks Sydney Harbour. They continued around Dawes Point which is located on the north-western edge of the Sydney CBD.
Continuing further, they went to the south end of the Sydney Harbour Bridge. Over the Harbour Bridge to Blues Point which has such a beautiful view looking east. There is nothing blocking the view so you can see the full arch of the Harbour Bridge. Under the bridge you can see the iconic Sydney Opera House.
They stopped for photos at Jeffrey Street Wharf because it also has amazing views across Sydney Harbour. You can see the Opera House and the CBD. To the right and high up is the Harbour Bridge. It is great to see it from a different perspective.
All too soon time was up and Craig took them back over the Harbour Bridge to their hotel. The 50th birthday trike ride was a great success, something they will always remember.
https://www.trolltours.com.au/product/harbour-bridge-ride/
After a trike or Harley tour
it is worth a walk through these two places:
1. The Rocks is a neighbourhood of historic laneways in the shadow of Sydney Harbour Bridge. The oldest house in Sydney can be found in The Rocks.
2. Apparently Australia's largest Chinatown is the one here in Sydney. As a result of the exciting trike or Harley ride you will be hungry. The food experiences are amazing. You'll find Chinese and Cantonese to Malaysian, Thai and Vietnamese. There are dumpling houses, neon-lit nooks and food courts. You'll find a delicious range of restaurants, from yum cha palaces to hole-in-the-wall eateries.
https://www.trolltours.com.au/wp-content/uploads/2019/04/Harley-50th-birthday-trike-ride-Bre1.jpg
540
720
Kat
https://www.trolltours.com.au/wp-content/uploads/2016/08/logo.png
Kat
2019-04-19 15:00:34
2019-04-19 15:00:53
Brett + Ray 18.04.19 – 50th birthday trike ride