Beau, Cade + Jake 18.04.19 – Blue Mountains trike ride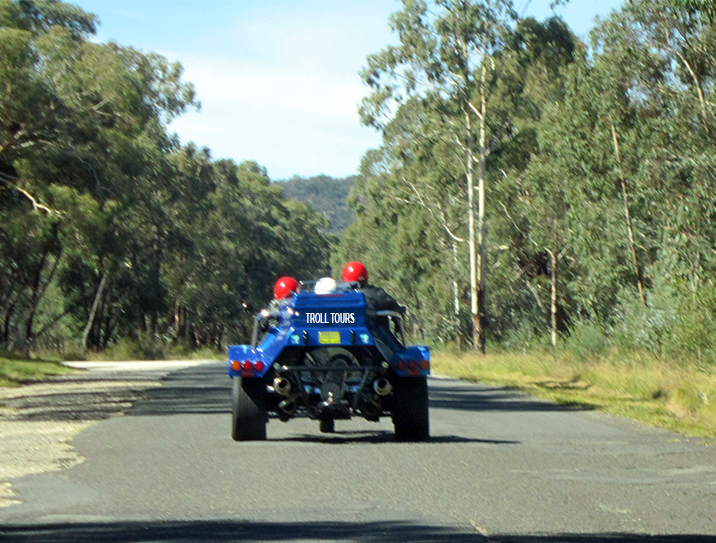 Grandma has just moved to the Blue Mountains area. She wanted see a bit of the area and also give her grandsons some fun while they were visiting. Susan organised the Blue Mountains trike ride with us because she knew we did rides in this area. They are aged 12, 9 and 7 and they were so excited to be dressed in leather, riding down the freeway.
Since it was school holidays as well, what an exciting adventure for the boys to remember. Our trike rider Max picked the grandsons up from her home in the upper Blue Mountains. Susan followed in her car so she could learn more about the area and where to go later for a more intensive look.
The Blue Mountains trike ride
Max rode them around the Mount Victoria and Hartley area. It's very scenic and not as well known as other parts of the Blue Mountains, such as the Three Sisters. Hartley is a historical village in the Central Tablelands region of NSW – the top of the Blue Mountains range.
They continued riding to Lithgow where the ride finished. They boys and Susan had McDonalds for lunch before driving back home. Susan wrote to us after the Blue Mountains trike ride:
Testimonial
Hi Katrina,
I just wanted to say what a great time my grandsons had. Max was wonderful with them and they were so excited to be dressed in leather and heading down the highway.  The weather was perfect and we all had a good time.  I followed in the car and enjoyed the trip as much as the boys. Max's knowledge of the area was enlightening. An all round wonderful experience.
Thank you.
Susan
https://www.trolltours.com.au/product/design-your-own-ride/
The 'blue' in Blue Mountains
The name Blue Mountains, is derived from the blue tinge the range takes on when viewed from a distance. This is because of the naturally occurring organic chemicals are emitted in large quantities by the abundant eucalyptus trees. When eucalyptus oils, dust particles, and water vapour combine, as the sunlight hits, it creates an optical illusion of a blue haze. The light allows the eyes to see the blue pigments in the atmosphere.
https://www.trolltours.com.au/wp-content/uploads/2019/04/Harley-Blue-Mountains-trike-ride-BeCaJa1.jpg
543
716
Kat
https://www.trolltours.com.au/wp-content/uploads/2016/08/logo.png
Kat
2019-04-25 14:04:45
2019-04-25 14:05:15
Beau, Cade + Jake 18.04.19 – Blue Mountains trike ride