Adrian + Donna 05.05.19 – Blue Mountains trike exploration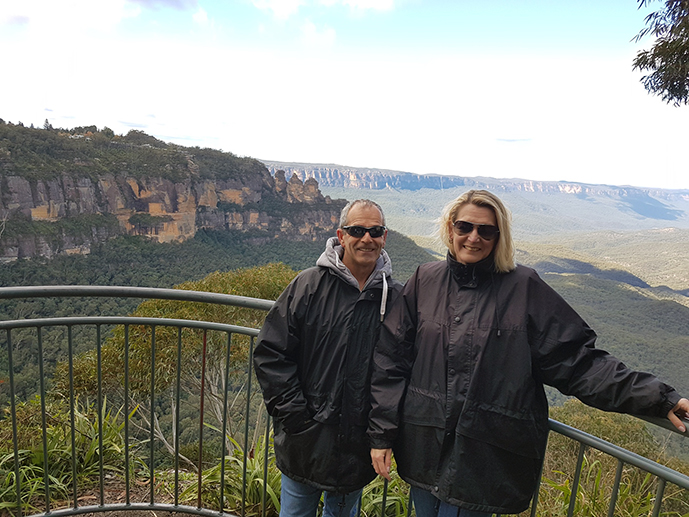 Another birthday surprise! Donna organised the trike Blue Mountains exploration tour. It was a surprise for her husband Adrian. They are in Sydney from the UK on holidays. It was a great idea of Donna's and Adrian did get a huge and fabulous surprise.
They caught a train up to Katoomba railway station. Our trike rider Syl picked them up and took them on a fun 4 hour tour of the area. The route firstly took them to Lincoln Rock. They continued on to lovely Wentworth Falls. It really is a green and leafy area with a waterfall.
Next was the famous and iconic Three Sisters. The Three Sisters is the Blue Mountains' most spectacular landmark. They are located at Echo Point in Katoomba.
Bells Line of Road
One of our favourite parts is Megalong Valley. They rode down there before stopping for a coffee. Instead of taking them back the same was they came down, Syl organised a different route. They rode to Mt Victoria and the Bells Line of Road. It is a well known by Sydneysiders. Bells Line of Road is a 59-kilometre (37 mi) major road across the Darling Causeway (the vertical-sided ridge separating the Grose River and Cox's River catchments). It carries relatively little traffic, but is a significant tourist route.
They continued through Bilpin (known for its delicious apples) to Kurrajong. Stopping at Stonehenge Kurrajong Village for a stretch. Next they rode through the lovely Richmond and Agnes Banks before dropping off at Penrith Railway Station. They then caught the train back to Sydney.
The trike Blue Mountains exploration tour was an absolute success. Everyone enjoyed the ride and had a very memorable and fun time. They also saw so many parts of outer Sydney that most visitors to Sydney don't get to see. https://www.trolltours.com.au/product/design-your-own-ride/

https://en.wikipedia.org/wiki/Bells_Line_of_Road
https://www.trolltours.com.au/wp-content/uploads/2019/05/Harley-Blue-Mountains-trike-exploration-tour.jpg
517
689
Kat
https://www.trolltours.com.au/wp-content/uploads/2016/08/logo.png
Kat
2019-05-07 18:48:44
2019-05-07 18:53:07
Adrian + Donna 05.05.19 – Blue Mountains trike exploration