Debbie + Ross 28.05.19 – Sydney trike tour present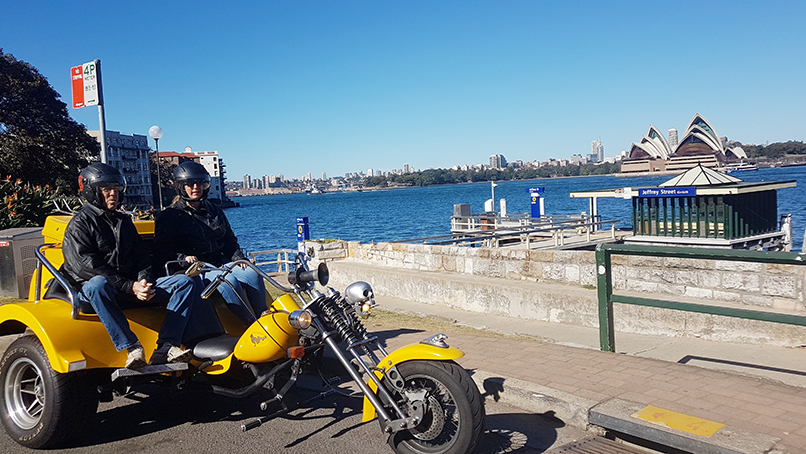 The Sydney trike tour present was from our passenger's daughter. They are visiting Sydney for a few days and it is a great way to see some or all of the sights in a short time frame. Craig picked them up from their hotel in Cremorne, on the north side of Sydney Harbour.
Sydney Harbour Bridge
Firstly, they rode across the Sydney Harbour Bridge. It is a famous icon of Sydney, and rightly so. It is very impressive especially from the back of a trike (or Harley). Make sure you look up to see the arches.
The historic Rocks
Continuing along the bridge they rode through the historic Rocks. It is a wonderful area to explore with lots of charm and history. See the bottom of this post for more information about The Rocks.
They then rode back across the bridge and through North Sydney. Next they rode down to Jeffrey Street Wharf at Kirribilli. The views across Sydney Harbour to the Sydney Opera House and the CBD is beautiful. Also, checkout the Sydney Harbour Bridge from a different perspective.
After that, they rode under the bridge, past Luna Park turn off and the North Sydney Olympic Pool.
However, the time was up so Craig returned our passengers to the drop off in Cremorne. In conclusion, the Sydney trike tour present was a fun ride and an experience to remember. The best present!
https://www.trolltours.com.au/product/three-bridges-trike-tour/
The Rocks became established shortly after the colony's formation in 1788. From the earliest history of the settlement, the area had a reputation as a slum and the arriving convicts' side of town, often frequented by visiting sailors and prostitutes. That's certainly not the case now!
The Sydney Harbour Bridge is a heritage-listed steel through arch bridge across Sydney Harbour that carries rail, vehicular, bicycle, and pedestrian traffic between the CBD and the North Shore. The dramatic view of the bridge, the harbour, and the nearby Sydney Opera House is an iconic image of Sydney, and Australia itself. The bridge is nicknamed "The Coathanger" because of its arch-based design.
https://www.trolltours.com.au/wp-content/uploads/2019/05/Harley-Sydney-trike-tour-present-DebRos1.jpg
454
806
Kat
https://www.trolltours.com.au/wp-content/uploads/2016/08/logo.png
Kat
2019-05-28 22:06:55
2019-05-28 22:07:17
Debbie + Ross 28.05.19 – Sydney trike tour present