QBE Group 29.05.19 – harley ride Sydney sights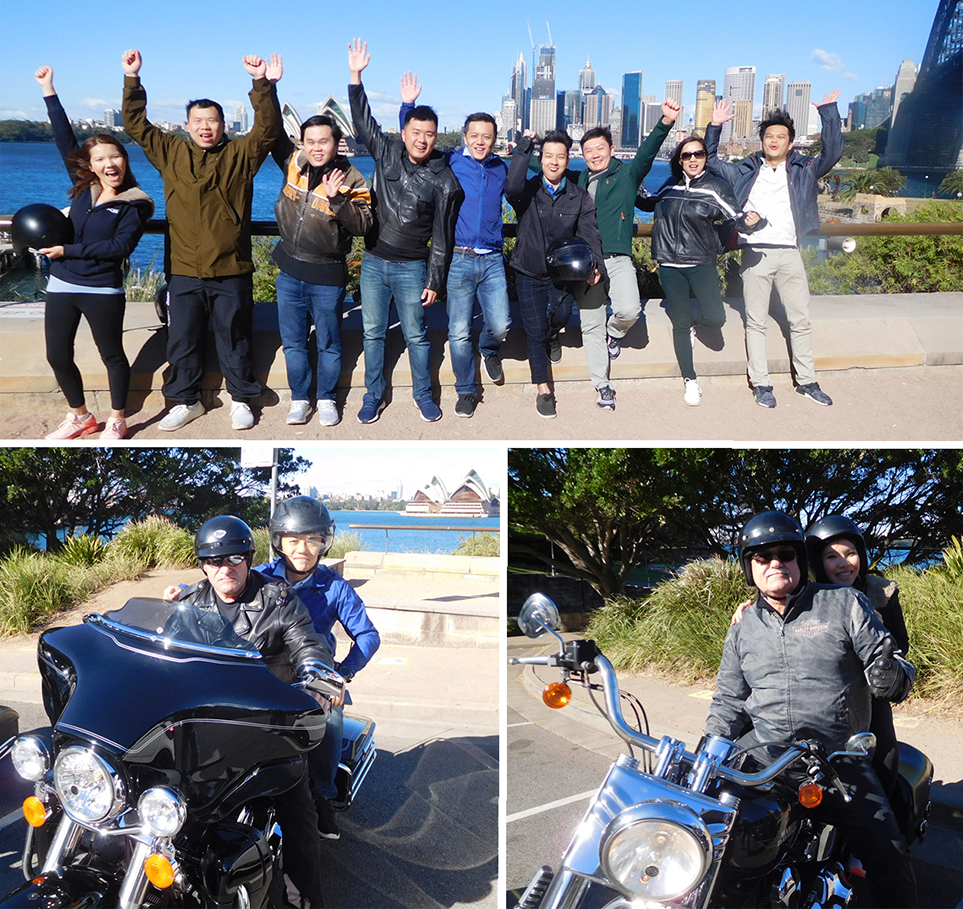 Our client needed to organise a Harley ride Sydney sights. This was for a group of QBE employees. QBE is an insurance company. They brought these employees to Sydney as a reward for their hard work. The most exciting experience they are doing is the Harley tour!
Sydney Harbour Bridge
10 of our Harley riders picked them up from their hotel in the Circular Quay area. Firstly, they rode over the Sydney Harbour Bridge. We never tire of the famous bridge and the view it gives us. Make sure you look up at the arches as you ride under them. You can't do that in a car and they really are impressive.
The Kirribilli Loop
After that, they rode to the Kirribilli Loop. That's what we call it. ? It means we stop near Jeffrey Street Wharf Kirribilli. This gives everyone a lovely view over Sydney Harbour towards the Sydney Opera House and the Sydney CBD. In addition, they stopped for photos with the beautiful view behind them.
Continuing on the Kirribilli Loop, they rode under the north end of the Sydney Harbour Bridge. Similarly, this gives a very different perspective to the bridge from any other. They rode past the Luna Park entrance road and past North Sydney Olympic Pool before heading back over the bridge.
The infamous Kings Cross
They rode through the city to Woolloomooloo. Past the iconic Harry's Cafe De Wheels and into the infamous Kings Cross. It is the red light district of Sydney though it is not as 'full on' as it was in its heyday.
However, time was up so after such a fun Harley ride we had to take them to the drop off place. This was the Sydney Fish markets where they were going to have lunch. Sydney Fish Market is the world's third largest fish market for volume sold and second largest in terms of variety.
In conclusion, the Harley ride Sydney sights was a big success. Our passengers loved every second of it and the organisers were very happy with our service. In other words, we aim to make the whole experience easy from beginning to end.
https://www.trolltours.com.au/product/design-your-own-ride/
https://www.trolltours.com.au/wp-content/uploads/2019/05/harley-tour-around-Sydney-QBE1.jpg
909
963
Kat
https://www.trolltours.com.au/wp-content/uploads/2016/08/logo.png
Kat
2019-05-29 22:59:46
2019-05-29 23:00:23
QBE Group 29.05.19 – harley ride Sydney sights