Rob + Therese 30.06.19 – surprise birthday trike tour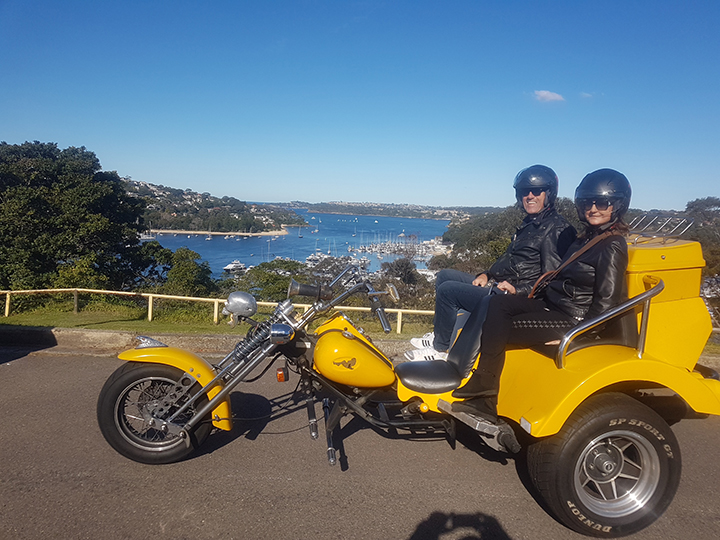 Therese organised this surprise birthday trike tour for her husband. We text and called rather than emailing, just to make sure it was a surprise.
Lord Nelson Hotel the Rocks
It was a huge surprise! Craig picked them up from their home in the eastern suburbs. Firstly they rode through Sydney city to The Rocks. They stopped for a quick beer at the Lord Nelson Hotel. The passengers that is!
Next, they rode over the iconic Sydney Harbour Bridge. Continuing on through North Sydney and the 'upper class' suburbs including Mosman.
Balmoral Beach
You really can't be in the area and not ride past the lovely Balmoral Beach. So they did, it is always worth a look. The Promenade along the Esplanade was completed in 1926 in response to the influx of new visitors travelling by tram. The tram no longer exists.
Middle Harbour
Next, they rode over the Spit Bridge with it's lovely views of Middle Harbour. Up into Seaforth for a beautiful view of Middle Harbour.
Manly Beach
However, 1.5 hours goes so quickly so Craig took them to Manly Beach. He dropped them off so they could continue celebrating Rob's birthday. There are plenty of nice restaurants in Manly.
In conclusion, the surprise birthday trike tour was a huge success. It was one of his best birthdays ever, a memorable experience!
https://www.trolltours.com.au/product/design-your-own-ride/
Manly is most notable for its beaches which are popular tourist destinations. Manly features a long stretch of sand on the ocean side, that runs from Queenscliff through North Steyne to South Steyne . This is followed by rock pools and sandy beaches called Fairy Bower and Shelly Beach. There are also a number of beaches on the harbour side of the peninsula. Norfolk Island pine trees are symbolic of Manly and are a prominent feature of both the ocean and harbour beaches.
https://www.trolltours.com.au/wp-content/uploads/2019/07/Surprise-birthday-trike-tour-RobThe1.jpg
540
720
Kat
https://www.trolltours.com.au/wp-content/uploads/2016/08/logo.png
Kat
2019-06-30 18:07:35
2019-07-28 18:08:16
Rob + Therese 30.06.19 – surprise birthday trike tour