Pharma Group 13.08.19 – Harley trike tour Sydney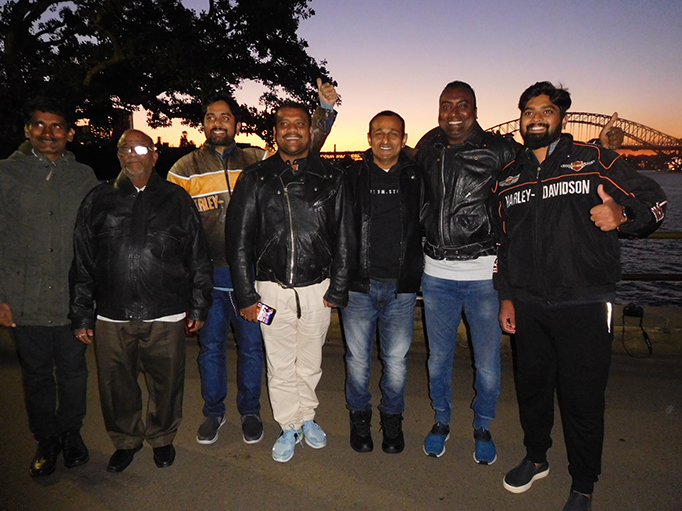 This corporate group was in Sydney for a short time. They reckoned a Harley trike tour Sydney was the best way to see the sights – and it is!
Five Harleys and a trike rider picked them up from their hotel in Darling Harbour. It was in the middle of peak hour but we still managed to give them a good ride.
Mrs Macquarie's Point
Firstly, they went to Mrs Macquarie's Point where they stopped for photos. The view from here is spectacular, looking across Sydney Harbour to The Sydney Opera House and the Sydney Harbour Bridge.
This is also where Mrs Macquarie's Chair is located but we can't see it from the road. If there is time, we can stop and the passengers can walk to it, it isn't far off the road.
Harry's Cafe De Wheels and Kings Cross
Next, they rode through Woolloomooloo and past the famous Harry's Cafe De Wheels. Up into the infamous Kings Cross though it's tame now compared to its heyday. They continued on into the city.
However, time was up so our riders dropped our passengers back at their hotel. Exploring Sydney, the group continued by checking out some places to eat dinner.
In conclusion, the Harley trike tour Sydney was a huge success. Note the smiles on their faces!
https://www.trolltours.com.au/product/design-your-own-ride/
Mrs Macquarie's Chair (also known as Lady Macquarie's Chair) is an exposed sandstone rock cut into the shape of a bench, on a peninsula in Sydney Harbour. Convicts hand carved it in 1810, for Elizabeth Macquarie, the wife of Major-General Lachlan Macquarie, Governor of New South Wales.
Harry's Café de Wheels – the story of 'Harry's Café de Wheels' goes back to the depression years of the late 1930's.
With the world on the brink of a devastating war, an enterprising Sydneysider by the name of Harry Edwards opened a caravan café near the front gates of the Woolloomooloo naval dockyard.
Word spread quickly with Harry's 'pie n' peas' and crumbed sausages soon becoming a popular, as a result it became part of the city's nightlife – keenly sought by sailors, soldiers, cabbies, starlets and coppers alike. Harry operated the caravan until 1938 when he enlisted in the AIF during WWII.
https://www.trolltours.com.au/wp-content/uploads/2019/08/Harley-trike-tour-Sydney-Phar1JPG.jpg
511
682
Kat
https://www.trolltours.com.au/wp-content/uploads/2016/08/logo.png
Kat
2019-08-16 18:04:36
2019-08-16 18:05:50
Pharma Group 13.08.19 – Harley trike tour Sydney