Aaron + Melissa 16.08.19 – 40th birthday trike tour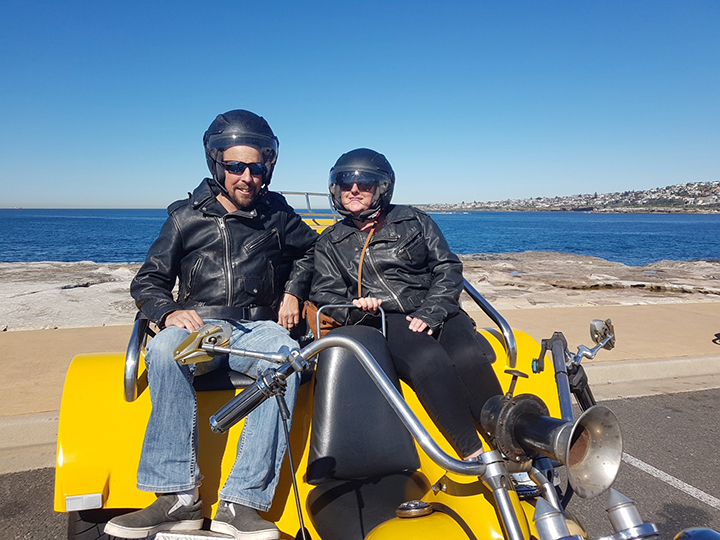 Aaron bought his wife Melissa, the 40th birthday trike tour. He came with her on the ride. In Sydney for a short while, to celebrate her birthday, Aaron thought this would be a cool way to take her to their lunch place.
Bondi Beach
Our trike rider Craig, picked up them up from their hotel in Bondi Beach. It had been preplanned that he rode them to Sydney city via some of the eastern beaches.
Tamarama, Bronte, Clovelly and Coogee Beaches
Firstly, they traveled past the small but beautiful Tamarama Beach. Continuing on, they rode further south to Bronte and Clovelly Beaches. Similarly, they rode on to the famous Coogee Beach.
Centennial Park
After that, they headed north west to the lovely Centennial Park. It is a peaceful and lovely park to ride through. Generally you can see lots of different sorts of ducks, horses and flora.
Riding on, they rode through the inner eastern suburbs. However, time was up so Craig dropped them at Circular Quay. They will continue exploring the city after they celebrate Melissa's birthday with lunch.
In conclusion, the 40th birthday trike tour was a success. An experience Melissa never thought she'd do. It made for a memorable birthday!
https://www.trolltours.com.au/product/design-your-own-ride/
Clovelly Beach is a small and tranquil beach located at the end of a narrow bay. Concrete platforms and promenades have been constructed on both sides of the bay which are popular sun-baking spots. Access steps go into the water, making Clovelly Beach more like a large ocean pool than a beach.
The name Coogee is taken from a local Aboriginal word koojah which means "smelly place" owing to the amount of seaweed that can collect on the beach. Daily beach cleaning by Randwick City Council staff keeps the beach in pristine condition year-round.
https://www.randwick.nsw.gov.au/facilities-and-recreation/beaches-and-coast/beaches
Centennial Park was dubbed The People's Park, when it was opened in 1888. Many people do not know it was the site of the inauguration of Australia's Federation in 1901. The birthplace of modern Australia and arguably the nation's most historically significant public park.
https://www.trolltours.com.au/wp-content/uploads/2019/08/Harley-40th-birthday-trike-tour-AarMel1.jpg
540
720
Kat
https://www.trolltours.com.au/wp-content/uploads/2016/08/logo.png
Kat
2019-08-17 15:30:44
2019-08-17 15:31:06
Aaron + Melissa 16.08.19 – 40th birthday trike tour