Louise + Friends 12.10.19 – Harley ride surprise 50th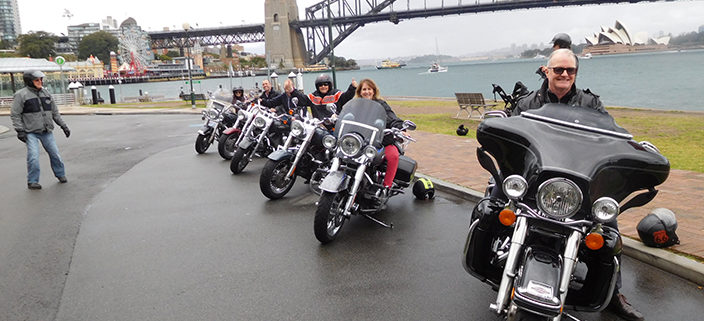 Louise's friends organised a Harley ride surprise 50th birthday present. They all came along for the Harley ride as well and even though they are all Sydneyites, it was like seeing Sydney in a different light. 6 of our Harley riders picked them up from Circular Quay.
Sydney Harbour Bridge and Blues Point Reserve
Firstly, they rode over the famous and fabulous Sydney Harbour Bridge. We always tell people to look up. The view is so different without a roof blocking the view. After riding over the Bridge, they rode to Blues Point Reserve at McMahons Point. The view is wonderful looking over Blues Bay and Sydney Harbour towards the iconic Sydney Opera House and the west side of the Harbour Bridge.
Mrs Macquarie's Point
Continuing on, they rode back over the bridge, through a part of the city and to Mrs Macquarie's Point. Similarly, this area has wonderful views across Sydney Harbour towards the Opera House and the Harbour Bridge. However, this is looking westward, from Blue Point it is looking eastward.
Kings Cross
In addition, there was time to ride through Woolloomooloo and past the iconic Harrys Cafe De Wheels. This leads into the infamous Kings Cross. It is very interesting to ride through, there is so much to see though it is not as over the top as it used to be.
However, time was now up so the Harley riders rode them all back to Circular Quay. The Harley ride surprise 50th birthday present was a huge success.
https://www.trolltours.com.au/product/the-city-viewer/
Kings Cross, colloquially known as The Cross, was once known for its music halls and grand theatres. It was rapidly transformed after World War II by the influx of troops returning and visiting from the nearby Garden Island naval base. It became known as Sydney's night entertainment and red-light district, however many nightclubs, bars and adult entertainment venues closed due to the Sydney lockout laws. Today, it is a mixed locality offering both services such as a railway station, gyms, supermarket and bakeries to nearby residents and entertainment venues including bars, restaurants, nightclubs, brothels and strip clubs to visitors.
https://en.wikipedia.org/wiki/Kings_Cross,_New_South_Wales
https://www.trolltours.com.au/wp-content/uploads/2019/10/Harley-ride-surprise-50th-LouFri1.jpg
528
704
Kat
https://www.trolltours.com.au/wp-content/uploads/2016/08/logo.png
Kat
2019-10-17 15:39:43
2019-10-17 15:40:16
Louise + Friends 12.10.19 – Harley ride surprise 50th