Alex, Mad + Sarah 11.09.19 – surprise Harley ride present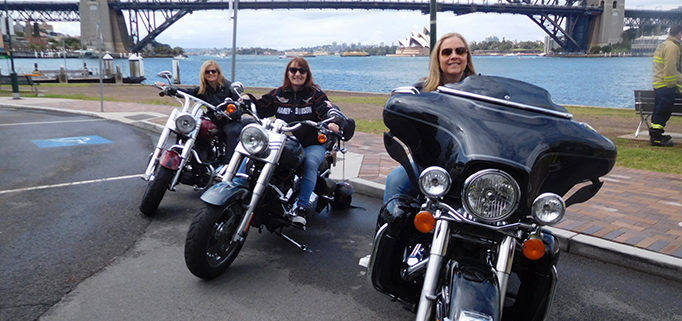 Madeleine organised the surprise Harley ride present for her friend. It was for a bit of fun and to do something memorable and different. It sure was.
Our 3 Harley riders picked our 3 passengers up from Circular Quay. They decided to do the 3 Bridges Ride. Firstly they rode over the famous Sydney Harbour Bridge. It is such a beautiful structure so make sure you look up and enjoy the view.
After that, they rode to Blues Point Reserve at McMahons Point. In addition, which is why we come here, is the beautiful view. Look east over Blues Bay to the Harbour Bridge and the iconic Sydney Opera House.
Continuing on, they rode through North Sydney and Crows Nest before joining River Road. It is a fun road to ride on. River Road leads to Burns Bay Road which, in turn, leads to another bridge but not one of the main three.
Fig Tree Bridge, Tarban Creek Bridge, Gladesville Bridge
It is the Fig Tree Bridge which opened in 1963 and spans the Lane Cove River. After that bridge, they continued on and crossed the second of the bridges Tarban Creek Bridge. This spans Tarban Creek. Then they got to bridge #2 of the main 3 Bridges, the Gladesville Bridge. It has wonderful views along Parramatta River towards the Harbour Bridge and the city.
This bridge is on the main arterial thoroughfare of Victoria Road. They travelled along for a short while before turning off into the inner west suburb of Drummoyne. Following the shoreline of Iron Cove, which is part of the Parramatta River, they saw some lovely water views. It is part of the 7 km long Bay Run.
ANZAC Bridge
Riding onto the incredible ANZAC Bridge, however is the same story – more fantastic views. Similarly, it is also great to see without a roof over your head inhibiting the view. Riding into the city is always interesting, however, time was up. Craig dropped the passengers back at Circular Quay. Our passengers thought the 3 Bridges Harley ride was fantastic, a great way to see parts of the city only the locals know about.
https://www.trolltours.com.au/product/three-bridges-trike-tour/
In conclusion, the surprise Harley ride present was a huge success, another "best birthday present ever".
https://www.trolltours.com.au/wp-content/uploads/2019/10/Surprise-Harley-ride-present-AlMaSa1.jpg
511
682
Kat
https://www.trolltours.com.au/wp-content/uploads/2016/08/logo.png
Kat
2019-10-16 13:04:45
2019-10-16 13:08:01
Alex, Mad + Sarah 11.09.19 – surprise Harley ride present