Graham + Lisa 22.11.19 – U2 concert trike transfer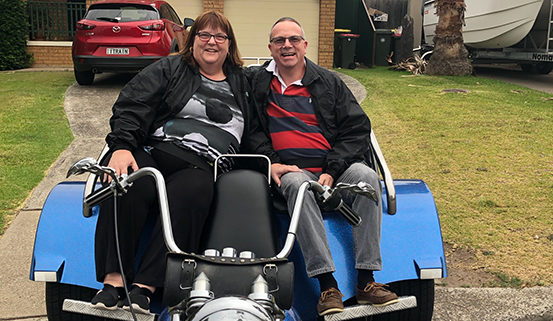 So, you've booked a concert to a popular band! How about arriving there in style? An interesting yet great idea! Our passengers booked a U2 concert trike transfer with us.
Southern suburbs of Sydney
Brian picked them up from home, in Heathcote, part of the southern suburbs of Sydney. There are a couple of routes we could have gone. Riding via the Tom Uglys Bridge is the most direct route so we rode that way.
Tom Uglys Bridge
Tom Uglys Bridge is composed of two bridges, completed in 1929 and 1987. They both cross Georges River in southern Sydney. One of six major road crossings of Georges River, Tom Uglys Bridge is unique. The Georges River, also known as Tucoerah River, is an intermediate tide dominated drowned valley estuary.
shoreline of Botany Bay
After the Tom Uglys Bridge, the route leads past part of the shoreline of Botany Bay. This leads through the suburb of Brighton-Le-Sands. Next, they drove past the southern area of the Sydney Kingsford-Smith Airport. Continuing on, they rode through some of the inner eastern suburbs of Sydney.
Sydney Cricket & Sports Ground
However, time was up and they had arrived at their destination. They arrived at the Sydney Cricket & Sports Ground where the U2 concert was held. The Sydney Cricket Ground is a sports stadium. It is used for Test, One Day International and Twenty20 cricket, as well as Australian rules football, rugby league football, rugby union, and association football.
In conclusion, the U2 concert trike transfer was a success. Read their testimonial below:
Testimonial
"The service was fabulous and I would certainly recommend it. Thank you for the follow up and the photo.
We did enjoy the concert even though we got saturated, all part of the experience".
Lisa
https://www.trolltours.com.au/product/design-your-own-ride/
Southern Sydney is the southern metropolitan area of Sydney. The area includes the suburbs south of the Georges River (colloquially known as 'The Shire'). As a result, the area is often referred to as St George and Sutherland.
https://www.trolltours.com.au/wp-content/uploads/2019/11/Harley-U2-concert-trike-transfer-GraLis1.jpg
737
553
Kat
https://www.trolltours.com.au/wp-content/uploads/2016/08/logo.png
Kat
2019-11-25 18:06:12
2019-11-25 18:06:27
Graham + Lisa 22.11.19 – U2 concert trike transfer