Jordan + Thomas 29.11.19 – Eastern suburbs trike ride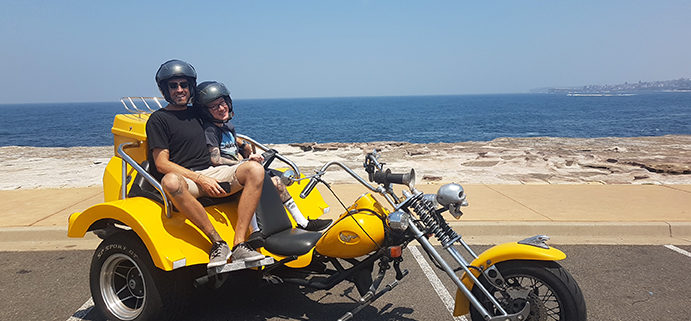 The Eastern suburbs trike ride was booked for two mates. They are on holidays, visiting Sydney, therefore they really wanted to see some famous sights. Tom has a disability but it doesn't stop him from having fun and experiencing life. We love taking people with a disability on the trike, we love seeing their smiles.
The Eastern Suburbs beaches
Craig picked up Jordan and Tom from the Crown Plaza Coogee. Firstly, they rode past the well known Coogee Beach. Next, they stopped at Clovelly Beach for photos. All along this stretch of beach coastline is very scenic, we could stop anywhere and get good photos. Continuing on, they rode past Bronte Beach and the little Tamarama Beach.
Bondi Beach
The road went on to the famous Bondi Beach so they rode past the beach and through Bondi. Moreover, the trike certainly was an attention draw card. Therefore, be prepared for plenty of people looking at you!
the infamous Gap
After that, we continued on to the infamous Gap. Unfortunately, The Gap is a well known place for suicides in Australia. But, it has beautiful views to the Tasman Sea. It is an ocean cliff on the South Head peninsula in eastern Sydney.
Watson Bay
Not long further on, is Watson Bay. Made famous by a fish and chip restaurant. We then rode back via the posh eastern suburbs of Vaucluse and Double Bay. There was time to drive through the lovely Centennial Park.
However, time was up so Craig dropped Jordan and Tom back at the hotel. In conclusion, Eastern suburbs trike ride was a huge success:
Testimonial
Hey Katrina,
No worries, Tom would love to find that on any media you wanted to post! You can tag him on facebook! He loves that stuff!
The ride was an exceptional way to see Sydney Beaches. Really enjoyed it! 

A big credit goes to Craig – who was just a really nice down to earth bloke. Honest, informative, great for a yarn. He didn't feel like a "tour guide" y'know, just a good bloke showing us the city in a rad way!

It was awesome.Tom and I really enjoyed it!
I'll throw up a review shortly!
Cheers
JD
https://www.trolltours.com.au/product/design-your-own-ride/
https://www.trolltours.com.au/wp-content/uploads/2019/12/Harley-Eastern-suburbs-trike-ride-JorTho1.jpg
518
691
Kat
https://www.trolltours.com.au/wp-content/uploads/2016/08/logo.png
Kat
2019-12-02 17:04:10
2019-12-02 17:04:25
Jordan + Thomas 29.11.19 – Eastern suburbs trike ride