Cathy + Dallas 02.12.19 – southern beaches trike tour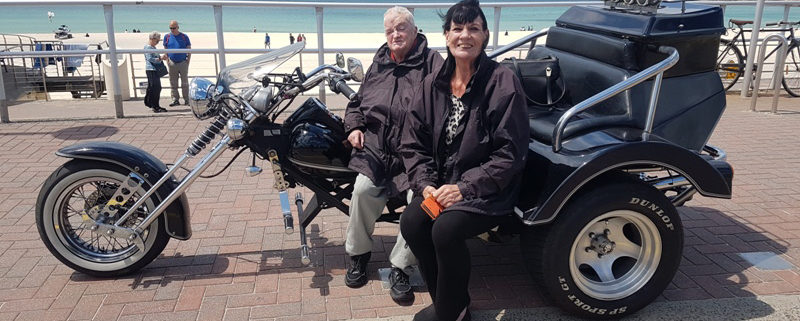 Cathy has been on a trike ride with us before. Her carer rang asking us to organise another trike ride. We emailed a few maps of routes we could do in two hours, leaving from the home. We all decided the southern beaches trike tour was the best tour to do.
southern beaches
So, our trike rider Syl, picked them up from the southern suburb of Beverly Hills. Firstly they drove to San Sousi which is on the Georges River. Next, they rode through Brighton Le Sands, which follows part of Botany Bay. This lead them along the southern edge of the airport to the lovely La Perouse, on the east of Botany Bay.
eastern beaches
After that, they rode north along the eastern beaches of Maroubra, Coogee, Bronte and Tamarama. They stopped at Bondi Beach for a stretch and for photos.
However, time was almost up so they headed back home. Syl dropped them off and, in conclusion, the southern beaches trike tour was a huge success. The smiles on the photos says it all!
Testimonial
Hi Katrina,
Thanks very much for the receipt and photos. We both enjoyed the trip very much and Sylvio was wonderful.
Thanks, once again.
Dallas
https://www.trolltours.com.au/product/design-your-own-ride/
Lieutenant James Cook first landed at Kurnell, on the southern banks of Botany Bay, in what is now Silver Beach, on Sunday 29 April 1770, when navigating his way up the east coast of Australia on his ship, HMS Endeavour. Cook's landing marked the beginning of Britain's interest in Australia and in the eventual colonisation of this new "southern continent".
Initially the name Stingrays Harbour was used by Cook and other journal keepers on his expedition, for the stingrays they caught. That name was also recorded on an Admiralty chart. Cook's log for 6 May 1770 records "The great quantity of these sort of fish found in this place occasioned my giving it the name of Stingrays Harbour". However, in the journal prepared later from his log, Cook wrote instead: (sic) "The great quantity of plants Mr. Banks and Dr. Solander found in this place occasioned my giving it the name of Botanist Botany Bay".
Eighteen years later, in 1788, Governor Arthur Phillip sailed the armed tender HMS Supply into the bay on 18 January.
https://www.trolltours.com.au/wp-content/uploads/2019/12/Harley-southern-beaches-trike-tour-CaDa1-1.jpg
600
800
Kat
https://www.trolltours.com.au/wp-content/uploads/2016/08/logo.png
Kat
2019-12-04 13:14:17
2019-12-04 13:17:24
Cathy + Dallas 02.12.19 – southern beaches trike tour