Sheree 16.12.19 – Harley tour eastern Sydney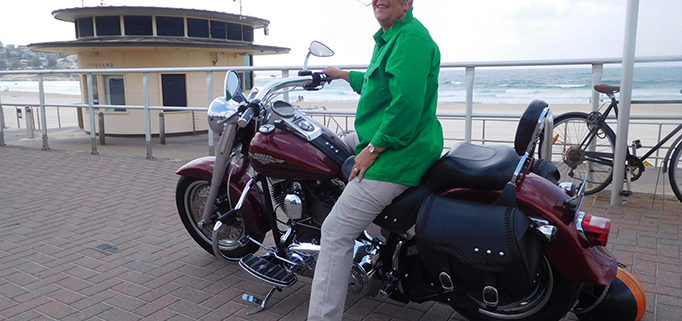 Sheree is from far north Qld. She needed a break so came to Sydney for a few days. She rang us at late notice but we could organise our Harley rider Phil. Sheree organised the Harley tour eastern Sydney.
Phil picked her up from her hotel in the city. Firstly they rode past Bronte Beach and the little but lovely Tamarama Beach. Of course, no Harley tour eastern Sydney tour is complete without visiting Bondi Beach.
Bondi Beach and the lifeguard tower
They stopped for photos at Bondi Beach, near the lifeguard tower. It is famous because of the TV show 'Bondi Rescue'.
the 'bays'
Next, they rode through the 'bays'. Rose Bay, Double Bay and Rushcutters Bay. After that, they rode through the infamous Kings Cross. It is not nearly as raunchy as it used to be. This led to the now posh Woolloomooloo, home to Harry's Cafe De Wheels.
However, time was nearly up so Phil dropped Sheree back at her hotel. In conclusion, the Harley tour eastern Sydney was a huge success and a lot of fun.
https://www.trolltours.com.au/product/eastern-sydney-panorama-trike-ride/
The story of 'Harry's Café de Wheels' goes back to the depression years of the late 1930's.
With the world on the brink of a devastating war, an enterprising Sydneysider by the name of Harry Edwards opened a caravan café near the front gates of the Woolloomooloo naval dockyard.
Soon, word spread quickly with Harry's 'pie n' peas' and crumbed sausages soon becoming a popular part of the city's nightlife – keenly sought by sailors, soldiers, cabbies, starlets and coppers alike. Harry operated the caravan until 1938 when he enlisted in the AIF during WWII.
Bondi Rescue is an Australian factual television programme which is broadcast on Network 10. The programme, which has aired since 2006, follows the daily lives and routines of the Waverley Council professional lifeguards who patrol Bondi Beach.
https://www.trolltours.com.au/wp-content/uploads/2019/12/Harley-tour-eastern-Sydney-She1.jpg
511
682
Kat
https://www.trolltours.com.au/wp-content/uploads/2016/08/logo.png
Kat
2019-12-16 22:16:52
2019-12-16 22:17:31
Sheree 16.12.19 – Harley tour eastern Sydney