Uniting Residents 16.12.19 – elderly passengers trike rides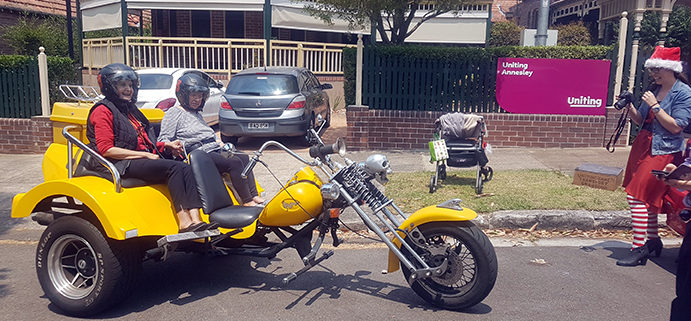 Every now and then we get a call to organise this elderly passengers trike rides. They live in an Aged Care Home and a highlight is to do something different. All of the passengers love to go on the trike so there were more to take then was expected – word had got around!
Aged Care Home
So our trike rider arrived at their place, in the inner west of Sydney. He spent four hours taking them all around the block. They all absolutely loved the experience as the smiles show!
However, time was up so our trike rider had to stop the rides. In conclusion, there were so many happy faces that the elderly passengers trike rides were definitely a huge success.
Testimonial
The organiser wrote "All the Residents had a great day on the Trike, thank you so much…"
https://www.trolltours.com.au/product/design-your-own-ride/
Some information: the Inner West Sydney is an area directly west of the Sydney central business district. The suburbs of the Inner West are predominantly located along the southern shore of Port Jackson (Parramatta River), stretching south to the shores of the Cooks River. The western boundary is Homebush Bay Drive & Centenary Drive.
https://www.trolltours.com.au/wp-content/uploads/2019/12/Harley-elderly-passengers-trike-rides-unit1.jpg
518
691
Kat
https://www.trolltours.com.au/wp-content/uploads/2016/08/logo.png
Kat
2019-12-17 21:36:46
2019-12-17 21:37:02
Uniting Residents 16.12.19 – elderly passengers trike rides