Cooper + Rod 06.01.20 – Christmas present trike tour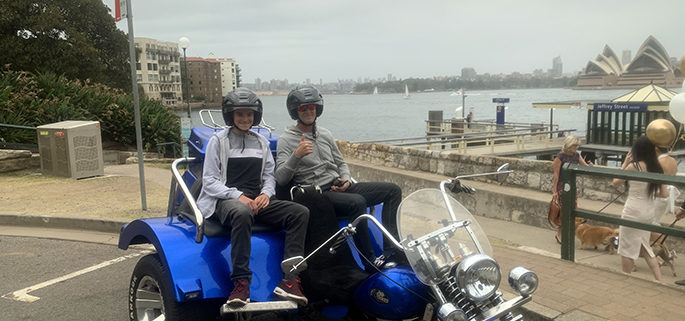 The Christmas present trike tour was the best Christmas present ever! Cooper's Aunt and Uncle brought the trike tour for him and his dad. We emailed them Gift Vouchers so they had something to open on Christmas Day. Rod rang us to organise the tour.
Famous Sydney Harbour Bridge
Steve picked them up Circular Quay. Firstly, they rode over the famous Sydney Harbour Bridge. It is an experience and with a view that we never ever tire of. We always tell our passengers to look up and enjoy the unique view. The rivets are so interesting and the arch is so iconic.
Kirribilli
Next, after riding across the Harbour Bridge was riding past Kirribilli House. Kirribilli House is the secondary official residence of the Prime Minister of Australia.
After that, they rode around the corner to Jeffrey Street Wharf. From here, the views across Sydney Harbour towards the Sydney Opera House and the CBD are magnificent. In addition, it also has an up-close view of the side and underneath of the bridge.
They continued riding on through North Sydney and Crows Nest before joining River Road. It is a fun road to ride on. River Road leads to Burns Bay Road which, in turn, leads to another bridge but not one of the main three.
Fig Tree Bridge – an extra!
The Fig Tree Bridge opened in 1963 and spans the Lane Cove River. They continued on and crossed the second of the bridges Tarban Creek Bridge. This spans Tarban Creek. Then they rode onto the second of the main 3 Bridges, the Gladesville Bridge. Similarly, it has wonderful views along Parramatta River towards the Harbour Bridge and the city.
Gladesville Bridge
This bridge is on the main arterial thoroughfare of Victoria Road. They travelled along for a short while before turning off into the inner west suburb of Drummoyne. They followed the shoreline of Iron Cove which is part of the Parramatta River. It is also part of the 7 km long Bay Run.
Kings Cross and Woolloomooloo
School holidays are still on so there wasn't much traffic. Therefore, Steve could take the passengers further than usual. They rode through the city, into the infamous Kings Cross.
For some reason, Kings Cross is not the place it used to be, it is still interesting to see. They rode along Darlinghurst Road and Macleay Road, the main streets of Kings Cross and Potts Point. This led into Woolloomooloo, past the icaonic Harrys Cafe De Wheels and Finger Wharf.
However, time was up so Steve dropped his passengers back at Circular Quay. In conclusion, the Christmas present trike tour was a huge success. Rod wrote to us:
Testimonial
A great gift idea! This ride was bought for me and my son as a Christmas present and we both loved it! Steve was our rider – clearly knowledgeable on the local area, very friendly and we always felt safe! If I had to choose between walking over the bridge or riding around the city's sights on the back of a trike I'd pick this every time!
https://www.trolltours.com.au/tours-and-prices/
https://www.trolltours.com.au/wp-content/uploads/2020/01/Harley-Christmas-present-trike-tour-CooRod1.jpg
514
685
Kat
https://www.trolltours.com.au/wp-content/uploads/2016/08/logo.png
Kat
2020-01-09 22:00:47
2020-01-09 22:06:18
Cooper + Rod 06.01.20 – Christmas present trike tour