Frank + Helena 07.01.20 – northern shore trike tour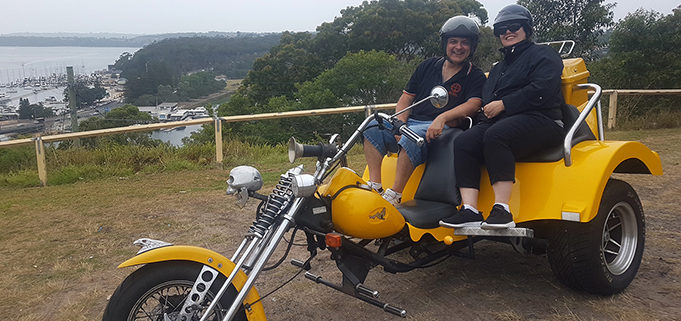 Our passengers are from Perth, WA and Frank wanted to surprise his wife. He decided the northern shore trike tour would show them the sights they wanted to see. One of our trike riders, Craig, picked Frank and Helena up at their accommodation in Sussex Street, in the CBD.
Iconic Sydney Harbour Bridge
Firstly, they rode through the city and over the iconic Sydney Harbour Bridge. We always tell our passengers to look up and enjoy the unique view. The rivets are so interesting and the arch is so iconic.
Kirribilli House and Admiralty House
Next, after riding across the Harbour Bridge was riding past Kirribilli House and Admiralty House. Kirribilli House is the secondary official residence of the Prime Minister of Australia. Admiralty House is the Sydney official residence of the Governor-General of Australia.
Kirribilli
After that, they rode around the corner to Jeffrey Street Wharf. From here, the views across Sydney Harbour towards the Sydney Opera House and the CBD are magnificent. In addition, it also has an up-close view of the side and underneath of the bridge. They stopped for photos and even though it is all smoke and no blue sky, it is still amazing to see.
Middle Harbour
They continued on through the lower north shore suburbs of Cremorne, Mosman to lovely posh Balmoral Beach. Crossing the Spit Bridge is always fun, with lovely views of Middle Harbour and hundreds of yachts. Riding further up the hill to the Seaforth viewing point, where they stopped for more photos.
Dobroyd Headland
Then it was to Tanya Park at Dobroyd Headland. The views here are wonderful across Sydney Harbour towards both North and South Heads and out towards the South Pacific Ocean.
However, time was almost up. So Craig rode past the inner northern beaches of Clontarf before returning the passengers to their hotel. In conclusion, the northern shore trike tour was a big success, as you can see by their smiles.
https://www.trolltours.com.au/product/design-your-own-ride/
https://www.trolltours.com.au/wp-content/uploads/2020/01/Harley-north-shore-trike-tour-HelFra1.jpg
511
681
Kat
https://www.trolltours.com.au/wp-content/uploads/2016/08/logo.png
Kat
2020-01-10 16:03:11
2020-01-11 19:01:59
Frank + Helena 07.01.20 – northern shore trike tour