Trike tour eastern panorama – Nicole + Rachel 07.07.20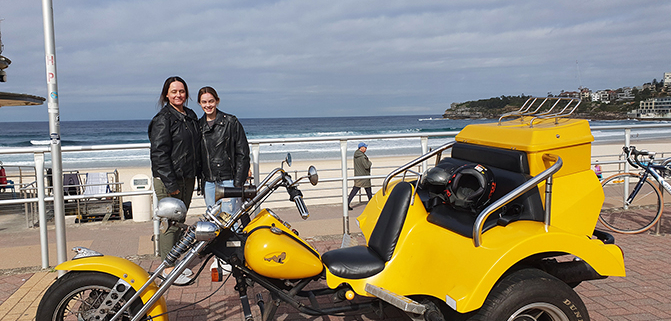 Troll Tours
The trike tour eastern panorama testimonial: "Our tour guide Craig took us around the eastern suburbs of Sydney. And we had a great time and would highly recommend and do again. Thanks." Nicole and Rachel.
Mum Nicole organised the tour for herself and her daughter while they are in Sydney for a holiday.
Mrs Macquarie's Point
Our trike rider Craig, picked our passengers up from their hotel in Darling Harbour. Firstly, they rode through the city to Mrs Macquarie's Point, home of Mrs Macquarie's Chair. From here there is a gorgeous view looking towards the Sydney Opera House and the Sydney Harbour Bridge. Mrs Macquarie's Point is a peninsula which was named in 1810 after Elizabeth, Governor Macquarie's wife. She ordered a seat to be chiselled into the rock from which she could view the harbour. Mrs Macquarie's Chair, as it's known, is still there today. It's in the Domain but is effectively an extension of the Botanic Gardens.
the infamous Kings Cross
Riding past Finger Wharf and the iconic Harry's Café De Wheels is always interesting. Harry's Café de Wheels has been serving customers for over 80 years. They make delicious pies, hotdogs and more. It is in the inner eastern suburb of Woolloomooloo. This leads up into the infamous Kings Cross – home of the famous and huge Coca Cola sign. It is also home to nightclubs and ladies of the night though it is not nearly as raunchy as it was in the 1970s (apparently).
Watsons Bay and The Gap
Continuing on, they rode through the posh eastern suburbs of Rushcutters Bay, Double Bay, Rose Bay and Watsons Bay. Here, they stopped at "The Gap" for photos. The view towards North Head and out to the South Pacific Ocean. Watsons Bay sits on the end of the South Head peninsula.
Of course, no tour or visit to Sydney, is complete without seeing the famous Bondi Beach. It's probably the most famous beach in the world. The beach is seriously nice (but not our favourite) and we usually stop near the lifeguard station, made famous by the TV series "Bondi Rescue". Bondi Beach is one of the most visited tourist sites in Australia. Our passengers could hardly believe they were actually doing the trike tour eastern panorama, it was so much fun.
However, the 1.5 hours was almost up so Craig headed back into Sydney and dropped them at their hotel. In conclusion, the trike tour eastern panorama was a huge success. We love happy passengers!
https://www.trolltours.com.au/product/eastern-sydney-panorama-trike-ride/
https://www.trolltours.com.au/wp-content/uploads/2020/07/trike-tour-eastern-panorama-NicRac1.jpg
504
671
Kat
https://www.trolltours.com.au/wp-content/uploads/2016/08/logo.png
Kat
2020-07-14 12:33:24
2020-07-15 12:35:25
Trike tour eastern panorama – Nicole + Rachel 07.07.20