Northern Skimmer birthday surprise – Skinner Family 11.07.20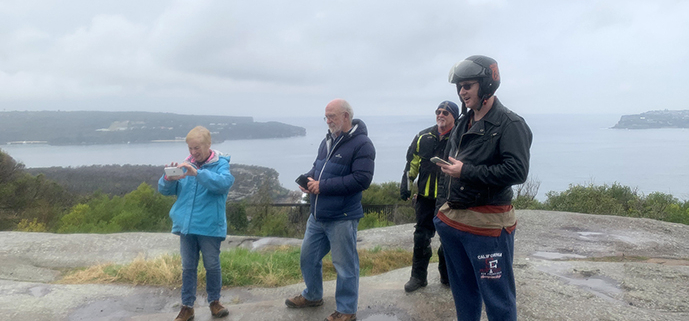 Troll Tours
Northern Skimmers birthday surprise testimonial. As written on TripAdvisor and Facebook.
Great way to see the sites of Sydney ⭐️⭐️⭐️⭐️⭐️
"This was my 2nd experience with Troll Tours, this time I surprised my Mum for her birthday with a Troll Tour around the northern beaches. Troll Tours couldn't have been more helpful with the bookings, and on the day the trikes were ready and waiting for us, right outside the zoo where we were staying! The surprise couldn't have been better! We got to see some awesome scenery and our guides were very knowledgeable about the areas were were touring through. 5 star service all the way, if you are looking for something different to do and a new way to see the sites of Sydney, you won't be disappointed with Troll Tours." Sam
Sam bought the Northern Skimmer birthday surprise for her Mum. She and her husband did a tour a few years ago. They absolutely loved it and were looking for an excuse to do another one. Mum had a wonderful surprise. Celebrating Mum's birthday by staying at the Taronga Zoo accommodation the night before, we met them there.
Our trike riders, Craig and Steve, picked our passengers up from the main entrance of the Zoo. The riders took them on the Northern Skimmer birthday surprise, the inner northern suburbs of Sydney are beautiful. Firstly, they rode the back roads to the posh Balmoral Beach.
The Northern Beaches
Riding through the back streets before crossing the Spit Bridge, is always fun. Such lovely views of Middle Harbour and the hundreds of yachts are hard to forget. Further up the hill they rode into the northern beach suburbs of Seaforth and Clontarf. Tania Park on Dobroyd Head is another view worth checking out. Amazing views looking across Sydney Harbour and through North and South Heads. The photo on this post was taken here, even though it is wet it is still beautiful.
Manly, Freshwater, Curl Curl and Dee Why Beaches.
Continuing on, they rode to the lovely Manly and through Freshwater Beach, Curl Curl and Dee Why. We love the northern beaches, they are all such lovely scenic beaches. By now the 1.5 hours was nearly up. Our riders took our passengers back to Taronga Zoo via the scenic route. In conclusion, the Northern Skimmer birthday surprise was a huge success. They want to do another tour one day.
Taronga Zoo
Officially opened in Sydney in 1884, it was the first public zoo in New South Wales. On a site known as Billy Goat Swamp in Moore Park, operated by the Zoological Society of NSW. The first exhibits to be built were the seal ponds, elephant temple, monkey pits, top entrance, aviaries, paths and roadways and the refreshment rooms. In all, 228 mammals, 552 birds and 64 reptiles were moved from Moore Park to Taronga. In addition, many animals, including the elephants, crossed the harbour on board a flat top barge.
Importantly, Taronga Zoo Sydney was officially opened on October 7th, 1916. An interesting history is found here: https://taronga.org.au/about/history-and-culture/sydney

https://www.trolltours.com.au/product/design-your-own-ride/
https://www.trolltours.com.au/wp-content/uploads/2020/07/Northern-Skimmer-birthday-surprise-Skin1.jpg
517
689
Kat
https://www.trolltours.com.au/wp-content/uploads/2016/08/logo.png
Kat
2020-07-15 07:40:41
2020-07-28 10:27:28
Northern Skimmer birthday surprise – Skinner Family 11.07.20