trike memories 12 years on – Lyn + Friend 2008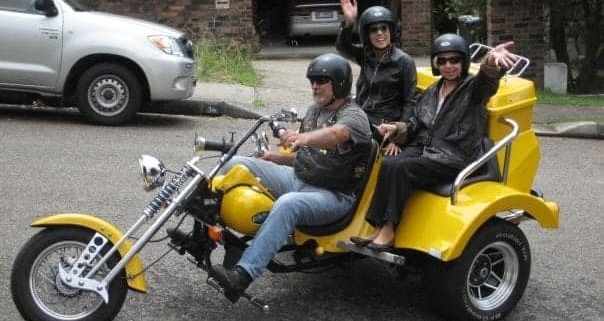 Troll Tours
How's this for trike memories 12 years on!
6 days ago, an out of the blue review on Facebook: "12 years ago and still talking about it! It was such great fun." Lyn. How's that for trike memories 12 years on!
Then, in the comments, another happy passenger: "Over 6yrs ago – same carriage and coachman in same vest. Magic ride, and the envy of many passengers on our cruise ship. We organised from NZ, and still talk about the ride". Patricia.
We love happy passengers and have many second and third timers.
https://www.trolltours.com.au/product/design-your-own-ride/
Some ideas to make trike memories 12 years on:
Ride around Sydney, stopping at various points along the harbour
Explore the eastern suburbs including the famous Bondi Beach
We love the Northern Beaches, home to the TV series "Home and Away"
Travel over 3 of the main bridges in Sydney
memories
1. the faculty by which the mind stores and remembers information.
2. something remembered from the past.
An interesting Sydney Harbour fact
Interestingly, one Sydharb is an official Australian unit of measurement. It is used to measure volume and is equivalent to 500 gigalitres. Incredibly, this is the volume of water in Sydney Harbour. However, Sydney Harbour is a drowned river estuary carved out of the sandstone about 29 million years ago. Amazingly, the sea level rose about 17,000 years ago flooding the river and creating the harbour. Around the world, it really is hard to think of a more beautiful harbour than Sydney Harbour. For more interesting facts about Sydney Harbour, check out our News Page.
Sydney's Bridges
For instance, five bridges cross the harbour: the Sydney Harbour Bridge, the ANZAC Bridge, the Gladesville Bridge, the Ryde Bridge, and the Silverwater Bridge. However, on our 3 Bridges ride we take you over 3 of these bridges. Also included are a couple of minor bridges. Most Sydneysiders don't know these minor bridges. All bridges have spectacular views!
In conclusion, trike memories 12 years on can be yours! Contact us for details. Go on, we know you want to! We can design a tour especially for you and what you'd like to see.
Or, you can pick one of our suggestions, check out: https://www.trolltours.com.au/tours-and-prices/

https://www.trolltours.com.au/wp-content/uploads/2020/07/Harley-trike-memories-12-years-on-Lyn1.jpg
453
604
Kat
https://www.trolltours.com.au/wp-content/uploads/2016/08/logo.png
Kat
2020-07-16 19:33:52
2020-07-16 19:47:16
trike memories 12 years on – Lyn + Friend 2008