Hens party Harley transfer – Ashleigh 22.08.20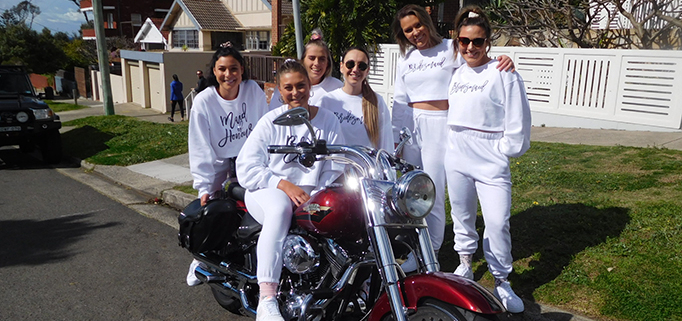 Troll Tours
No Hen's Party is complete without a Harley ride! So, Ashleigh's sister Alexandra and the bridal party organised the Hens party Harley transfer. It was part of the whole exciting weekend of celebrations. Under strict instructions, we and the Harley rider were not to tell Ashleigh where the drop off point was. No worries, we can keep a secret and she'd find out soon enough.
It didn't take long and the Harley ride was organised. Scheming behind Ashleighs back was fun. ? Our rider Phil was outside their accommodation at Bondi Beach, before time. Ready for the surprise! ?
Ashleigh came outside her accommodation and received the surprise of her life – a great one by the way. After photos with the Harley and her friends, she used the sanitiser we provide as part of the Point to Point regulations. A new NSW Government industry regulator.
Firstly, they rode past the famous Bondi Beach. Probably the most famous beach in Australia, if not the world. When in Sydney it is one of the places you should visit. The beach is seriously nice (but not our favourite) and we usually stop near the lifeguard station, made famous by the TV series "Bondi Rescue". Bondi Beach is one of the most visited tourist sites in Australia.
Eastern Suburbs
Next, Phil and Ashleigh rode down Old South Head Road and along the posh eastern suburbs of the inner harbour. Vaucluse, Rose Bay, Double Bay and Rushcutters Bay are lovely to ride through. nice view through because it follows the Sydney Harbour coastline.
the infamous Kings Cross
This led into the infamous red light district of Kings Cross. In its heyday it was the home of the drug lords and the Australian version of the mafia. Not so much any more. Down the hill into Woolloomooloo and past Finger Wharf.
Mrs Macquarie's Point
They turned off to visit Mrs Macquarie's Point, home of Mrs Macquarie's Chair. From here there is a gorgeous view looking towards the Sydney Opera House and the Sydney Harbour Bridge. Mrs Macquarie's Point is a peninsula which was named in 1810 after Elizabeth, Governor Macquarie's wife. She ordered a seat to be chiselled into the rock from which she could view the harbour. Mrs Macquarie's Chair, as it's known, is still there today. It's in the Domain but is effectively an extension of the Botanic Gardens. It also leads past the Art Gallery of NSW, https://www.artgallery.nsw.gov.au/ a most magnificent building.
So this part of her fun weekend was just about over. Phil and Troll Tours were under strict instructions to make sure Ashleigh was dropped off at Cockle Bay by a certain time. As time was almost up, Phil rode her to Cockle Bay where the Hens Party met them. The next event was a harbour cruise so they had to be on time for it.
In conclusion, the Hens party Harley transfer was a great success. One of the 'funnest' experiences she's ever done.
https://www.trolltours.com.au/product/design-your-own-ride/
https://www.trolltours.com.au/wp-content/uploads/2020/08/Hens-party-Harley-transfer-Ash1.jpg
511
682
Kat
https://www.trolltours.com.au/wp-content/uploads/2016/08/logo.png
Kat
2020-08-22 16:54:47
2020-08-22 16:55:26
Hens party Harley transfer – Ashleigh 22.08.20