A Harbour Bridge trike tour – John + Nancy 04.12.20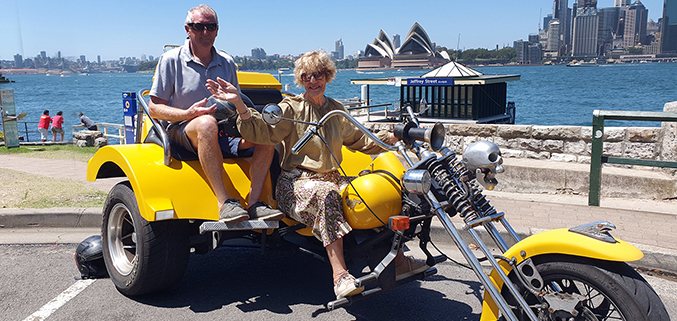 Troll Tours
A last minute decision to do something fun! Yes, we can organise a Harbour Bridge trike tour for the next day. John + Nancy are staying at Watsons Bay. If we picked them up from there (which we could have), they wouldn't have enough time to go over the Sydney Harbour Bridge. The time you book your Harley / trike tour, starts counting down at pick up.
Mrs Macquarie's Point
Our trike rider Craig, met them at the pick up point in Circular Quay. We email a map and instructions of where to meet.
Firstly, they rode through the city to Mrs Macquarie's Point, home of Mrs Macquarie's Chair. There is a gorgeous view looking towards the Sydney Opera House and the Sydney Harbour Bridge. Interestingly, Mrs Macquarie's Point is a peninsula which was named in 1810 after Elizabeth, Governor Macquarie's wife. Moreover, it was easy for Elizabeth as she had convicts to do the dirty work. For instance, she ordered a seat to be chiselled into the rock from which she could view the harbour. Mrs Macquarie's Chair, as it's known, is still there today. It's in the Domain but is effectively an extension of the Botanic Gardens.
Finger Wharf, Woolloomooloo
Secondly, they rode past Finger Wharf and the iconic Harry's Café De Wheels which is always interesting. Harry's Café de Wheels has been serving customers for over 80 years. They make delicious pies, hotdogs and more. It is in the inner eastern suburb of Woolloomooloo. So far, a Harbour Bridge trike tour is a lot of fun!
Iconic Sydney Harbour Bridge
Thirdly ?, they rode through the city and over the iconic Sydney Harbour Bridge. We always tell our passengers to look up and enjoy the unique view. The more than 6,000,000 rivets are so interesting and the arch is so iconic.
Kirribilli
Next, after riding across the Harbour Bridge they rode past Kirribilli House. Kirribilli House is the secondary official residence of the Prime Minister of Australia.
After that, they rode around the corner to Jeffrey Street Wharf. From here, the views across Sydney Harbour towards the Sydney Opera House and the CBD are magnificent. In addition, it also has an up-close view of the side and underneath of the bridge.
The Kirribilli Loop
They rode under the north side of the bridge and continued on their tour. The underside of the northern end of the SHB – Sydney Harbour Bridge – is very interesting. The Kirribilli Loop was finished by riding past Luna Park and the North Sydney Olympic Pool.
However, time was almost up so they rode back over the bridge. Craig dropped John and Nancy back at Circular Quay. In conclusion, the a Harbour Bridge trike tour was a success. Feel the Freedom! https://www.trolltours.com.au/product/harbour-bridge-ride/ http://www.sydneyharbourbridge.info/
https://www.trolltours.com.au/wp-content/uploads/2020/12/Harbour-Bridge-trike-tour-JoNan1.jpg
508
677
Kat
https://www.trolltours.com.au/wp-content/uploads/2016/08/logo.png
Kat
2020-12-05 18:44:40
2020-12-05 18:45:03
A Harbour Bridge trike tour – John + Nancy 04.12.20