Eastern Panorama Harley ride – Shane 18.12.20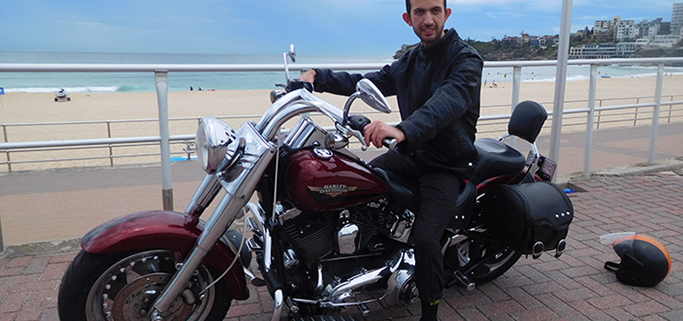 Troll Tours
Shane shouted himself the Eastern Panorama Harley ride as a Christmas present. It was touch and go with the weather and as usual, we are always happy to postpone to a nicer day. However, Shane decided to risk it and just as well he did. The weather was cloudy bit it was actually very nice and didn't rain.
Our Harley rider Phil, picked him up from outside the CountryLink Railway at Central Station. Shane lives on the central coast so caught the train down into Sydney city.
Centennial Park
Firstly, Phil rode through the lovely Centennial Park. 120 fields and venues, and 35+ different sports played, Centennial Parklands is the largest community sports precinct in Australia! The history is also interesting: "Originally a swamp and then set aside as land for the water source for Sydney, Centennial Park was reconstructed as a public park and opened in 1888. Sir Henry Parkes' vision was to create a 'People's Park' in which the citizens of Sydney could 'take in the air' away from the Sydney town centre."
Bronte Beach and Tamarama Beach
Next, they rode east to Bronte Beach and then north to the tiny but picturesque Tamarama Beach. It's lovely to look out to the South Pacific Ocean from any of the beaches. So far, the Eastern Panorama Harley ride was a lot of fun.
Bondi Beach
Further north they came to the famous Bondi Beach. Here they stopped for photos and why not with this view! Just to the left of this photo is the the world famous tower of the Bondi Lifeguards of the Bondi Rescue TV series. After there, they headed west through Bondi Junction and the posh suburb of Paddington.
Oxford Street
However, the 1.5 hours was nearly up so they rode through Taylor Square, part of Oxford Street. Pre-covid, this is where the Mardi Gras parade route went through. Oxford Street is very interesting in its own right. Finally they arrived back at CountryLink, Central Station. In conclusion, Shane loved the Eastern Panorama Harley ride. He is going to book another Harley tour soon.
https://www.trolltours.com.au/product/eastern-sydney-panorama-trike-ride/
https://www.centennialparklands.com.au/visit/history-and-heritage
https://www.trolltours.com.au/wp-content/uploads/2020/12/Eastern-Panorama-Harley-ride-Sha1.jpg
512
683
Kat
https://www.trolltours.com.au/wp-content/uploads/2016/08/logo.png
Kat
2020-12-19 15:09:36
2020-12-19 15:09:57
Eastern Panorama Harley ride – Shane 18.12.20