trike tour into the country – Stephen + Val 28.02.21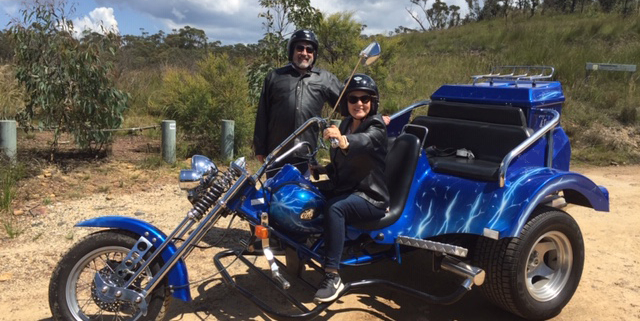 Troll Tours Pty Ltd
The trike tour into the country was hilarious to organise. Val organised it as a surprise for her husband, they had been wanting to do some sort of fun experience. We had to organise it in the wee hours of the night and day when he was doing something else. After the ride, Val wrote ?:
Testimonial
Hi Katrina,
Great time just cruising with Max. Great guy. Thank you.
I was able to keep it a complete surprise from hubby. Just kept reminding him he had 2 hours from 11 booked in with Max. Max is also my youngest son's name.
The look on hubby's face when Max took him out to see the trike was priceless.
Thanks again. Val
out of town and into nature
Val really wanted them to get out of town and into nature. Our trike rider Max picked them up from their home in Richmond. Richmond is roughly 63kms north west of Sydney. After a discussion and confirmation of where to go, they kitted up and hopped onto the trike.
Bells Line of Road
Max rode them through Richmond and onto the Bells Line of Road. This led over the lovely Hawkesbury River. Then it was through the lovely towns of Kurrajong and Bilpin (and others). Still on Bells Line of Road, they rode through Mount Tomah and onto Mount Banks. From here, there is a beautiful view west towards Bathurst and the Jenolan Caves. The trike tour into the country is a huge success so far!
Continuing on, they called in to see more beautiful vistas. However, the 2 hours was half way gone, it goes so fast! Max turned around and headed back down Bells Line of Road to Richmond and the passenger's home. In conclusion, the trike tour into the country was a huge success. Stephen was hugely surprised and they both had a fantastic time. Feel the freedom.
Bells Line of Road is known for its bends so is very popular with motorbike riders. This weekend however, is the Supercars at Bathurst. Police were everywhere, drug and alcohol testing. It took its name from Archibald Bell Junior, the explorer who at the age of just nineteen years crossed what was to become one of the most scenic routes across the Blue Mountains.
https://www.trolltours.com.au/product/design-your-own-ride/
https://www.australianexplorer.com/bells_line_of_road.htm
https://www.trolltours.com.au/wp-content/uploads/2021/02/Harley-trike-tour-into-the-country-SteVal.jpeg
480
640
Kat
https://www.trolltours.com.au/wp-content/uploads/2016/08/logo.png
Kat
2021-02-28 20:39:31
2021-02-28 20:40:00
trike tour into the country – Stephen + Val 28.02.21