Sister's Blue Mountains tour – Hanaa's Sisters 11.04.21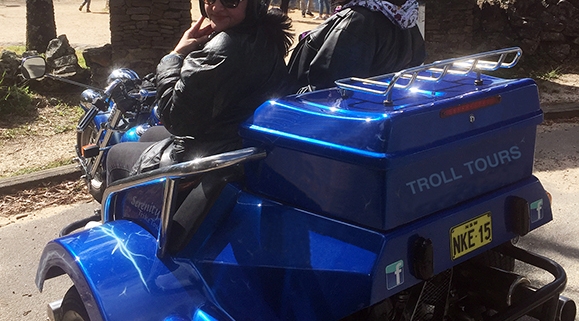 Troll Tours Pty Ltd
The sister's Blue Mountains tour was organised by Hanaa. They lost their mum a few years ago and it was an extra difficult time last year. Hanaa wanted to cheer everyone up, give them a fun experience. Last year Hanaa bought a trike tour off us for her nieces. This year it was for her two sisters. She followed in the car with her Dad.
Springwood
We found a place in Springwood, where the passengers and trike rider could all safely meet up. It was a total surprise and one they loved. When our rider turned up, they freaked out – in a good way!
Megalong Valley
Our trike rider Max, found the passengers at the prearranged pick up spot. He rode along the Great Western Highway, up the Blue Mountains. Instead of going to all the touristy places (which we love), he kept going to the picturesque Megalong Valley. On the way they stopped at Govetts Leap Lookout. You'll see a magnificent waterfall which drops a whopping 180m to the base of the cliff.
After almost an hour of riding, they stopped to eat at Megalong Tea rooms. So far, the Megalong Valley trike tour was fun and the best surprise! Our customer and their Dad followed the trike and they all met up for lunch. After a relaxing pick me up lunch, they piled back on the trike and Max rode back down the Blue Mountains. He dropped them back at their car in Springwood. The sister's Blue Mountains tour was a huge success.
Testimonial
Good Morning Katrina, 
How are you, hope all is well. 
OMG these photos, the first one needs to disappear, hahahahahhahaha.
We laughed so much what a great guy he's so polite and such a beautiful person. He was so good to my dad and sisters I can't thank him enough.
What a great asset to your business he is honestly.
Thank you happy to write another review but please don't post that first photo. OMG hahahahahahahahah.
Looking forward to booking with you guys again!
Have a great day.
Hanaa

https://www.trolltours.com.au/tours-and-prices/

https://www.trolltours.com.au/wp-content/uploads/2021/04/Sisters-Blue-Mountains-tour-Han1.jpg
599
579
Kat
https://www.trolltours.com.au/wp-content/uploads/2016/08/logo.png
Kat
2021-04-12 11:02:47
2021-04-12 11:03:09
Sister's Blue Mountains tour – Hanaa's Sisters 11.04.21