Harley tour birthday presents – Jo + Jo 11.04.21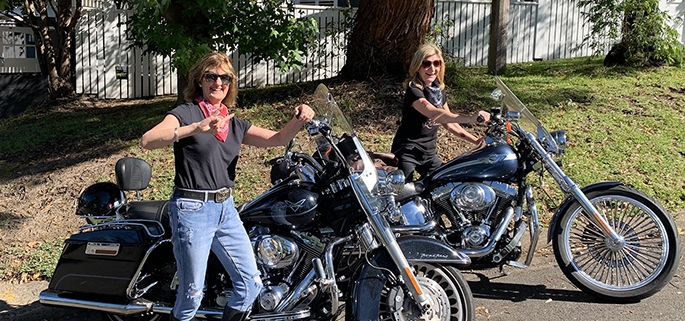 Troll Tours Pty Ltd
These Harley tour birthday presents were the best! A group of friends bought #1 Jo a Harley tour Gift Voucher for her 60th, a few months ago. The same group of friends bought #2 Jo, the same Harley tour Gift Voucher. Also for her 60th. The idea was so they could go on the Harley tour together.
So, when a Jo contacted us we organised the ride for them both. Our Harley riders, Pat and Craig, picked them up from one of their homes on the Northern Beaches. Both these riders live in the Northern Beaches so know the area very well. For a 4 hour Harley tour, you'd need to know where to take the passengers!
Old Pacific Hwy to Brooklyn
Firstly, the riders rode the approx 43 kms on the old Pacific Hwy to Brooklyn. The old Pacific Highway is a favourite for motorcycle riders. It has lots of bends which are so fun to ride around. They came out at Brooklyn which is located on the Hawkesbury River. This is at the very northern extremity of the Sydney metro area. So far, the Harley tour birthday presents were a huge success.
Berowra Waters punt
They returned on the Pacific Motorway to Berowra Waters. This route took them on the punt (ferry) over the river. The Berowra ferry crosses Berowra Creek at Berowra Waters. There is a cafe here at Berowra Waters. It had been prearranged to meet here, with the group of friends who bought them the Gift Vouchers. They all ate lunch at the cafe.
Galston Gorge
Then Harley riders then rode to Galston Gorge. Galston Gorge is a valley containing dense bushland. It contains numerous natural features such as waterfalls and streams accessible by established walking tracks. However, the 4 hours was nearly up so Pat and Craig rode Jo + Jo back to their drop off point.
In conclusion, the Harley tour birthday presents were the best presents ever. A great way to celebrate turning 60!
https://www.trolltours.com.au/product/design-your-own-ride/
http://driversvault.com/driving-roads/2015/11/old-pacific-highway-southern-pass/
https://www.trolltours.com.au/wp-content/uploads/2021/04/Harley-tour-birthday-present-JoJo1.jpg
514
685
Kat
https://www.trolltours.com.au/wp-content/uploads/2016/08/logo.png
Kat
2021-04-13 18:47:57
2021-04-13 18:51:07
Harley tour birthday presents – Jo + Jo 11.04.21