surprise southern spectacular tour – Brooke + Mick 13.04.21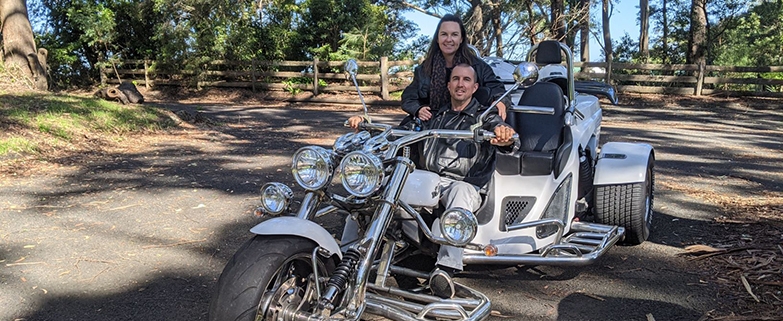 Troll Tours Pty Ltd
The surprise southern spectacular tour was organised by Brooke for Mick. Brooke tagged along. ? It was a covert operation, no emails or phone calls in case Mick saw or heard. So it was a huge surprise in the end. We organised our trike rider David, to arrive at their house at 9.30am. He then took them on a 4 hour trike tour south.
David wrote later: Lookouts, beaches, a bridge and lighthouses were the places visited today.
Royal National Park
Firstly, the journey started travelling through the Royal National Park.
The Royal National Park is Australia's first National Park and after Yellowstone in the U.S.A. was the second National Park in the world to be established. Interestingly, the park was originally named The National Park but this was changed in 1955 after a quick visit by Queen Elizabeth II to the Royal National Park. It was created as a people's park in 1879 and the park covers an area of 132 sq km.
Next, they had coffee stop at Bald Hill, Stanwell Tops. Stanwell Tops is known for its beautiful coastal, escarpment and cliff views. The hills that rise sharply from the coast to the escarpment with strong air currents make Stanwell Tops a prime spot for hang gliding and paragliding as well as the perfect spot to take a photo and admire the views of the ocean, the escarpment and the Sea Cliff Bridge.
Seacliff Bridge
We then continued onto the Seacliff Bridge and along the coastline to see the beaches to the north of Wollongong. The 665 metre long Sea Cliff Bridge is a highlight along the Grand Pacific Drive – A drive which takes in 140 kilometres worth of coastal scenery from the Royal National Park, Loftus down to Nowra. The surprise southern spectacular tour was an amazing ride so far.
Wollongong lighthouses + Mt Kiera Lookout
A ride past the Wollongong lighthouses then a climb to Mt Keira Lookout. Wollongong Harbour's Breakwater lighthouse has been inactive since 1974 but the Flagstaff Hill lighthouse is active. Mt Keira is a local landmark of Wollongong, towering 463.9 metres high.
Bulli Tops
The next part took us to Bulli Tops and a view down to the way we have travelled earlier. However, the 4 hours was nearly up. Heading back north, David returned via along the Old Highway to Waterfall. In conclusion, the surprise southern spectacular tour was a huge success and very spectacular!
https://www.trolltours.com.au/product/southern-spectacular-trike-tour/
https://www.visitnsw.com/destinations/south-coast/wollongong-and-surrounds/stanwell-park/attractions/sea-cliff-bridge
https://www.trolltours.com.au/wp-content/uploads/2021/04/surprise-southern-spectacular-tour-BroMic1.jpg
441
783
Kat
https://www.trolltours.com.au/wp-content/uploads/2016/08/logo.png
Kat
2021-04-14 09:50:28
2021-04-14 09:50:57
surprise southern spectacular tour – Brooke + Mick 13.04.21