SIL surprise 50th tour – Antony + Michelle 04.05.21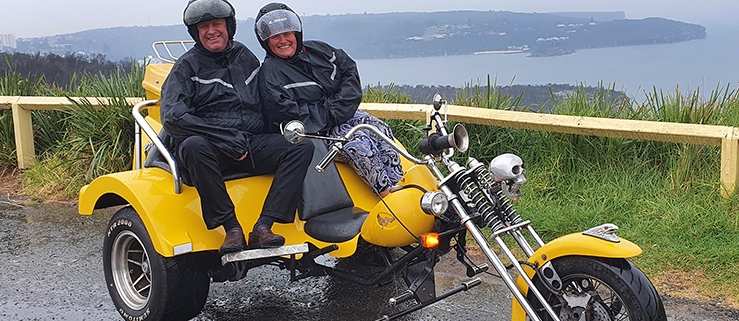 Troll Tours Pty Ltd
The SIL surprise 50th tour was a definitely a huge surprise. Gwen organised the trike tour for her son-in-law's 50th birthday. Michelle, her daughter went along for the ride also.
Our trike rider Craig, met the passengers at a place in Belrose, a suburb in the northern beaches of Sydney.
Wakehurst Parkway
Firstly, they rode through Belrose and then down Wakehurst Parkway. We love the Wakehurst Parkway because the legal speed is faster than most Sydney limits. This road led to Seaforth where they stopped to see the lovely view of Middle Harbour. 
The Northern Beaches
From there they rode down through Clontarf, past Clontarf Marina and Sandy Bay. Onto Dobroyd Headland and Arabanoo Lookout. From here there are wonderful views to the Sydney Heads, both North and South. So far, the SIL surprise 50th tour was the best present ever! We then made our way to Freshwater Headland for photos in the rain and continued on past Curl Curl and Dee Why. The Northern Beaches is one of our most favourite areas in Sydney.
However, the 1 hour was almost up Craig turned around and took the wet passengers home. In conclusion, the SIL surprise 50th tour was a huge success. He'd like this present again please!! ?
https://www.trolltours.com.au/product/design-your-own-ride/
Arabanoo lookout at Dobroyd Head offers fantastic views over to North Head and South Head and the expansive Pacific Ocean. Freshwater Beach's unique claim to fame is that this is where surfboard riding was popularised in Australia by Hawaiian "Duke" Kahanamoku. Duke famously carved a board from a piece of local timber and demonstrated surfing for an enthralled crowd on 10 January 1915. A life-size statue of Duke Kahanamoku on the northern headland commemorates the historic day. Wakehurst Parkway is a busy road north of Sydney. It is not the type of place you would usually associate with the supernatural, but the Wakehurst Parkway has for years been linked with reported sightings of a mysterious female figure, with claims the apparition has even appeared in the back seat of people's cars before disappearing.
https://www.trolltours.com.au/wp-content/uploads/2021/05/SIL-surprise-50th-birthday-tour-AntMic1.jpg
481
739
Kat
https://www.trolltours.com.au/wp-content/uploads/2016/08/logo.png
Kat
2021-05-04 15:35:59
2021-05-04 15:36:14
SIL surprise 50th tour – Antony + Michelle 04.05.21