Harley ride birthday gift – Rachael 08.05.21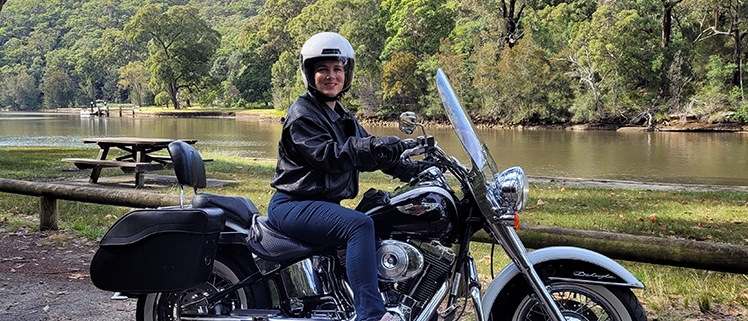 Troll Tours Pty Ltd
This Harley ride birthday gift was given to Rachael from her husband. Rachael was keen to ride and experience motorcycling on a larger machine than that she and her husband had ridden in Vietnam. Our Harley rider David, picked her up from her home in the southern suburbs of Sydney. It was quite the tour that he took her on, with quite the varielty of roads and country areas!
Royal National Park
Firstly, the journey started travelling through the Royal National Park. The photo was taken at Audley Weir in the Royal National Park.
The Royal National Park is Australia's first National Park. After Yellowstone in the U.S.A. it was the second National Park in the world to be established. Interestingly, the park was originally named The National Park but this was changed in 1955 after a quick visit by Queen Elizabeth II to the Royal National Park. It was created as a people's park in 1879 and the park covers an area of 132 sq km.
Next, they had coffee stop at Bald Hill, Stanwell Tops. Stanwell Tops is known for its beautiful coastal, escarpment and cliff views. The hills that rise sharply from the coast to the escarpment with strong air currents make Stanwell Tops a prime spot for hang gliding and paragliding. As well as the perfect spot to take a photo and admire the views of the ocean, the escarpment and the Sea Cliff Bridge.
Seacliff Bridge
We then continued onto the Seacliff Bridge and along the coastline. The 665 metre long Sea Cliff Bridge is a highlight along the Grand Pacific Drive – a drive which takes in 140 kilometres worth of coastal scenery from the Royal National Park, Loftus down to Nowra. The Harley ride birthday gift was an amazing ride so far.
Albion Park
After the Seacliff Bridge, they turned and headed north. The old highway is more fun than the Motorway. So they took it before ending up at Albion Park. It is a wonderful winding climb up Macquarie Pass. This was the turn around point. Macquarie Pass is an eight-kilometre-long section of the Illawarra Highway. It bypasses through Macquarie Pass National Park. The Pass was opened in 1898, though the area had been used by the Wodi Wodi tribe.
Appin
Again, they took the back roads to the Old Hume Highway. Bypassed Picton because they headed to Appin via Broughton Pass. Then, it was along Appin Road to the Highway, north and home. In conclusion the Harley ride birthday gift was a complete success. Such a lot of fun with such varied scenery.
https://www.trolltours.com.au/product/southern-spectacular-trike-tour/
https://www.sydney.com/destinations/sydney/sydney-south/royal-national-park
https://www.trolltours.com.au/wp-content/uploads/2021/05/Harley-ride-birthday-gift-Rac1.jpg
499
748
Kat
https://www.trolltours.com.au/wp-content/uploads/2016/08/logo.png
Kat
2021-05-08 19:56:18
2021-05-08 20:00:06
Harley ride birthday gift – Rachael 08.05.21