fun trike tour Sydney – John + Kelly 06.02.22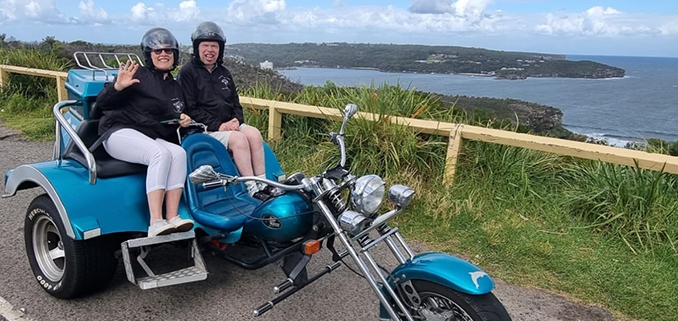 Troll Tours Pty Ltd
Kelly organised the fun trike tour Sydney for John's birthday. What a great way to celebrate!
Our trike rider Syl, picked them up from home in Mosman. The passengers were happy with a tour around the area. Even though they live there the view is always different from the back of a trike.
Balmoral Beach
Firstly, they rode past the lovely posh Balmoral Beach. Everyone who comes here loves it! Balmoral Beach is not so well known by visitors and tourists, but the stunning natural beauty of the beach and surrounds make it well worth a visit.
Spit Bridge lookout
Crossing the Spit Bridge is fun and then it was a fun ride up a windy hill to the lookout. From there, you can see great views of Middle Harbour. The Spit Bridge is a steel and concrete girder bridge with a bascule lift span. However, the one and a half hours was almost up so our riders turned around and went back different route.
Arabanoo Lookout
Then it was on to Tania Park on the Dobroyd Headland with the Arabanoo Lookout. From here there are wonderful views to the Sydney Heads, both North and South and the expansive Pacific Ocean. So far, the fun trike tour Sydney was indeed a lot of fun.
Manly Beach
Next, they went for a look at the famous beach. Manly is where the world's first surfing contest was held in 1964, making it one of Australia's most famous beaches. The iconic beach curves from South Steyne to North Steyne and Queenscliff, where a submerged reef, or bombora, creates the waves that inspire the world's best surfers to travel to our shores.
However, the hour was almost up so Syl turned around and drove them back home. In conclusion, the fun trike tour Sydney was a great birthday present and a huge success.
Testimonial
Thanks Katrina,
The ride went extremely well. Syl was fantastic. 
Yes, you can use the photo."
Kelly
https://www.trolltours.com.au/product/the-north-shore-skimmer-trike-tour/
https://www.trolltours.com.au/wp-content/uploads/2022/02/fun-trike-tour-Sydney-JohKel1.jpg
510
678
Kat
https://www.trolltours.com.au/wp-content/uploads/2016/08/logo.png
Kat
2022-02-07 12:16:14
2022-02-07 12:16:30
fun trike tour Sydney – John + Kelly 06.02.22