Girl weekend away tour – Kerryn + Leanne 16.01.22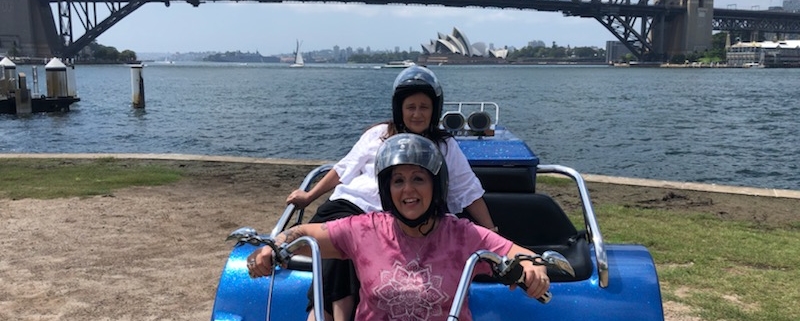 Troll Tours Pty Ltd
Girl weekend away tour testimonial. Kerryn wrote on Tripadvisor. "The whole thing was amazing!! Brian was fantastic!!! Showed us many sites!! We felt perfectly safe!!"
She also wrote in an email:
Hi Katrina!!! We had an absolute fantastic time!! Brian was sensational. Yeah we don't mind at all if you put photos up. I will def write a review. Thank you once again for a fantastic experience!
Kerryn
Kerryn and Leanne came to Sydney for a getaway. They decided to do something fun so did a girl weekend away tour on the trike. Our rider Brian picked them up from their accommodation in the city.
Sydney Harbour Bridge
Firstly, they rode over the Sydney Harbour Bridge. We always tell our passengers to look up and enjoy the unique view. The more than 6,000,000 rivets are so interesting and the arch is so iconic. It's nicknamed 'The Coathanger' because of its arch-based design. It is the largest steel arch bridge in the world.
Blues Point Reserve
After we rode off the Harbour Bridge, we did a left hand turn and a ride up a few streets. This leads to Blues Point Reserve. The views over Blues Bay towards the Sydney Opera House, the Harbour Bridge and the CBD are just stunning. All the more stunning because of the lovely weather. Then it was back over the Harbour Bridge and into the city. They headed east to Mrs Macquarie's Point. So far, the girl weekend away tour was a lot of fun.
Mrs Macquarie's Point
To get here, you drive past the Royal Botanical Gardens and the Art Gallery of NSW. Mrs Macquarie's Point has beautiful views looking west towards the Sydney Opera House and the Sydney Harbour Bridge. They ride past Mrs Macquarie's Chair. Mrs Macquarie's Chair is an exposed sandstone rock cut into the shape of a bench, on a peninsula in Sydney Harbour. It was hand carved by convicts in 1810, for Elizabeth Macquarie, the wife of Major-General Lachlan Macquarie, Governor of NSW.
Next, they stopped at Harry's Cafe De Wheels in Wooloomooloo for a look. Lots of celebrities have been there and had their photos taken, it is always interesting. Harry's has been serving customers for over 80 years. They make delicious pies, hotdogs and more.
However, the hour was almost up so Brian headed back into the city and dropped our passengers at Circular Quay. In conclusion, the girl weekend away tour was a huge success!
https://www.trolltours.com.au/product/design-your-own-ride/
https://www.trolltours.com.au/wp-content/uploads/2022/01/Girls-weekend-away-tour-Kerlea1.jpg
600
800
Kat
https://www.trolltours.com.au/wp-content/uploads/2016/08/logo.png
Kat
2022-02-09 14:53:55
2022-03-24 10:30:26
Girl weekend away tour – Kerryn + Leanne 16.01.22