Centennial Park disability rides – Andrew + Wayne 14.06.2022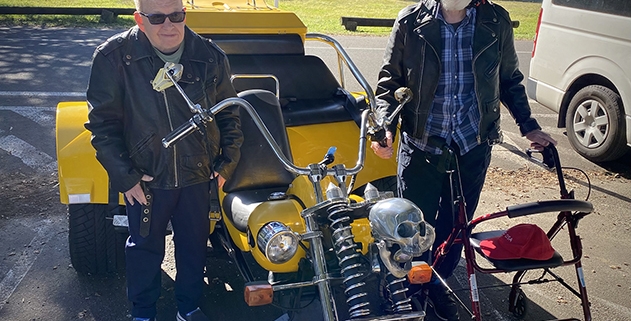 Troll Tours Pty Ltd
The Centennial Park disability rides were a Christmas present for our passengers. They were so looking forward to it that when they day came they were so excited they could hardly wait.
Our trike rider Fred met them at a prearranged place in Centennial Park. They couldn't go together because they each needed support, so they took turns with a carer.
The maximum speed limit in the park is 30km per hour so Fred rode outside the park as well. Just to give them a feel of being in the real world.
However, the hour was up so Fred dropped the last passenger back at the bus. In conclusion, the Centennial Park disability rides was a huge success and they'd love to do it again.
https://www.trolltours.com.au/product/design-your-own-ride/
Centennial Park history
It was originally a swamp and then set aside as land for the water source for Sydney. Centennial Park was reconstructed as a public park and opened in 1888. Sir Henry Parkes' vision was to create a 'People's Park' in which the citizens of Sydney could 'take in the air' away from the Sydney town centre.
In it's 130th year (2018), Centennial Park – the 'People's Park – has been honoured with an Australian National Heritage Listing. This elevates the Park to the status of other National Heritage places such as Bondi Beach, the Melbourne Cricket Ground and the Australian War Memorial.
'Great Inaugural Procession'
Centennial Park has outstanding heritage value to the nation. It's the site chosen for one of the defining events in Australia's history: the inauguration of the Commonwealth of Australia.
The inauguration event held at Centennial Park on 1 January 1901 was a key moment in Australia's progression to a unified Commonwealth. The six colonies of South Australia, Western Australia, New South Wales, Victoria, Tasmania and Queensland were brought together as one.

These actions marked the creation of a new democracy. From this moment, on 1 January 1901, the Commonwealth of Australia became a self-governing nation.
https://www.centennialparklands.com.au/stories/2018/centennial-park-receives-national-heritage-listing
https://www.trolltours.com.au/wp-content/uploads/2022/06/Centennial-Park-disability-rides-AndWay1.jpg
554
631
Kat
https://www.trolltours.com.au/wp-content/uploads/2016/08/logo.png
Kat
2022-06-24 13:55:20
2022-06-24 13:55:41
Centennial Park disability rides – Andrew + Wayne 14.06.2022