Harley joyride – Isabella + Tina 16.10.22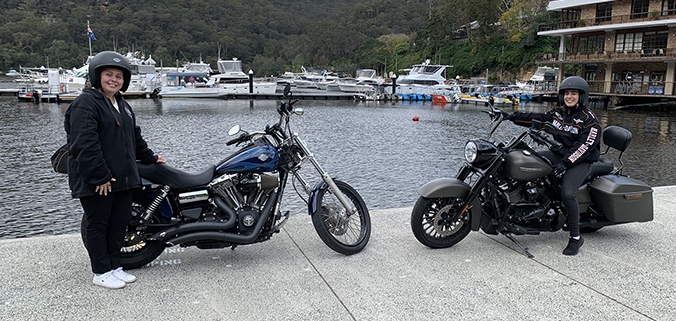 Troll Tours Pty Ltd
Tina has always wanted to do a Harley joyride and today was the day! When her daughter Isabella heard about she wanted to come along as well. Our Harley riders Wayne and Bear picked them up from their home at Glenorie. This is 44 km north-west of the Sydney CBD.
Glenorie and the historic Great North Road
Glenorie has a rural character so is a great place to start a Harley ride. The road that runs through this area is Great North Road, which has been renamed Old Northern Road.
The Great North Road is a historic road that was built to link early Sydney, in the Colony of New South Wales, now Australia, with the fertile Hunter Valley to the north. Built by convicts between 1825 and 1836, it traverses over 260 kilometres (162 mi) of the rugged terrain that hindered early agricultural expansion.
The road is of such cultural significance it was included on the Australian National Heritage List on 1 August 2007 as a nationally significant example of major public infrastructure developed using convict labour and on the UNESCO World Heritage list as amongst: "" .. the best surviving examples of large-scale convict transportation and the colonial expansion of European powers through the presence and labour of convicts."
Thanks to Wikipedia for the info.
Forest Glen and Maroota
10 kms up the road is Forest Glen, a tiny rural area. Further on is Maroota which is located at a high point, about 200 m above sea-level, on the ridge-following Great Northern Road. Maroota is situated on, and owes its nature to, Chris Nesci (the Maroota Sand) which geologists think may be the oldest known remnant of the largest waterway in the Sydney region, the Nepean-Hawkesbury system.
Wiseman's Ferry
The road continues up to Wiseman's Ferry. This is the oldest ferry crossing still in operation in New South Wales. Surrounded by beautiful national parks Wisemans Ferry is a rustic village on one of Australia's most famous waterways – the sparkling Hawkesbury River. It's a wonderful part of Sydney and it's the last northwest suburb of Sydney. After a look around, they continued riding. Turning back at Wiseman's Ferry and continuing back to Maroota, they turned right and went onto a different road. Sackville Ferry Road.
Sackville
Driving through the Hawkesbury area is just beautiful. They rode through Sackville North to the Sackville Ferry, a car ferry that crosses the river to Sackville. The suburb is home to five National Heritage Listed sites: Three residences, St Thomas' Anglican Church and the Sackville Cemetery, which dates back to 1828. It's quite amazing and a great road to ride on. So far, the Harley joyride was a lot of fun with lots of scenic sights.
Ebenezer
After the ferry ride and the ride through Sackville, they came to Ebenezer. The town was named after Eben-Ezer in the Bible, 1 Samuel 7:12, wherein Samuel set up a stone between Mizpah and Shen and gave the name to Ebenezer. It's another little historic, pretty village.
Windsor
The next place they rode through was Windsor, a bigger town than the others with a population of around 1900 people. Windsor was chosen during settlement because of its agricultural potential and accessible location. In 1813 a report was given to Governor Macquarie from Earl Bathurst detailing a proposed invasion of the Hawkesbury River by France. This planned invasion that did not eventuate targeted the Windsor granary in order to cut off supply to Sydney, demonstrating the relative importance of this new settlement on a global scale.
It's still important now for bike riders, as very picturesque town with some interesting roads to ride on. However, it does flood easily in that area.
However, the 2 hours were just about over so our Harley riders took them back to their home in Glenorie. In conclusion the Harley joyride was a lot of fun. Later Tina wrote:
Testimonial
Hi Katrina,
Omg we had the best time ever!
And hell yes, please post the photos, for sure I will post a review on Facebook if that's ok or whatever site you want me to.?
Thank you for everything.
Tina
https://www.trolltours.com.au/wp-content/uploads/2022/10/Harley-joyride-IsaTin1.jpg
507
676
Kat
https://www.trolltours.com.au/wp-content/uploads/2016/08/logo.png
Kat
2022-10-19 00:28:44
2022-10-19 00:29:06
Harley joyride – Isabella + Tina 16.10.22