northern beaches trike tour – Gerry + Leanne 19.10.22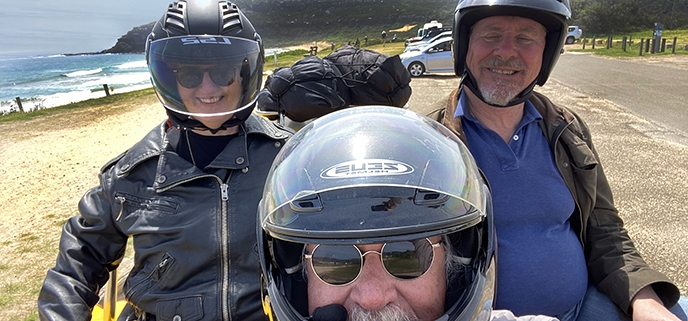 Troll Tours Pty Ltd
From Brisbane, Gerry + Leanne are in Sydney for a holiday. They decided to see a part of Sydney they had never been to. We suggested the northern beaches trike tour which they thought was a great idea. In the 4 hours they saw many of the beautiful beaches and national park.
Our trike rider Fred picked them up from their hotel in the Sydney CBD.
Firstly they rode down Macquarie Street, home of specialist doctors and lawyers. Past the Sydney Opera House and onto the Cahill Expressway,
Sydney Harbour Bridge
This led to the Sydney Harbour Bridge. We always tell our passengers to look up and enjoy the unique view. The more than 6,000,000 rivets are so interesting and the arch is so iconic. It's nicknamed 'The Coathanger' because of its arch-based design. It is the largest steel arch bridge in the world.
Ku-ring-gai Chase National Park
Heading north though the expensive area of Northbridge and over the Roseville Bridge. Up into the Terry Hills and through the Ku-ring-gai Chase National Park. The park has significant Aboriginal sites, including ancient red ochre rock paintings and rock engravings. The waterside suburb of Church Point was next, it's a beautiful area.
Bungan Beach and Palm Beach
East to the beaches: Bungan Beach (a surf beach that is 600m long – so it's quite short), Newport Beach (this is the home beach of three times world surfing champion, Tom Carroll), Avalon (my, Kat's, favourite beach when growing up, with its reddish golden sands) and then to the tip of the peninsula – Palm Beach – for a coffee stop. Palm Beach is also called Summer Bay in the soapie "Home & Away". So far, the northern beaches trike tour was a lot of fun. Already they had seen so many of the beautiful places many visitors or locals to Sydney don't get to see.
Whale Beach
After coffee, they rode past Whale Beach, Bilgola and onto Mona Vale. The origin of the name Whale Beach is unknown, although it is presumed to be associated either with the shape of the northern headland, or a beaching of a whale.
Narrabeen Lagoon
They rode via Narrabeen Lagoon (also referred to as Narrabeen Lake). It is Sydney's Northern Beaches largest estuary system located just behind the world famous surfing beach at Narrabeen. It is a haven for wildlife.
Past the lovely beaches of Collaroy, Dee Why, Curl Curl, Harboard, Freshwater and on to Manly. Manly Beach is one of Australia's most famous beaches, best known for being the beach where the world's first surfing contest was held in 1964.
Manly
However, the 4 hours was up so Fred dropped them off in Manly. They could explore that area, have some lunch and catch the ferry back into town. Gerry loves Sydney and his knowledge of it and it's suburbs is amazing. If you don't know anything about Sydney, that's ok because our trike and Harley riders do. They will explain all the areas they ride you through. In conclusion, Gerry + Leanne loved the northern beaches trike tour. They saw so many scenic areas which were all new areas to them. Next time they are in Sydney, they will do another trike tour of a different area of Sydney.
https://www.trolltours.com.au/product/the-beach-beauty/
https://www.manlyaustralia.com.au/
https://www.trolltours.com.au/wp-content/uploads/2022/10/northern-beaches-trike-tour-GerLea1.jpg
516
688
Kat
https://www.trolltours.com.au/wp-content/uploads/2016/08/logo.png
Kat
2022-10-23 14:36:39
2022-10-23 14:44:29
northern beaches trike tour – Gerry + Leanne 19.10.22