birthday gift trike tour – Anne + Ben 23.10.22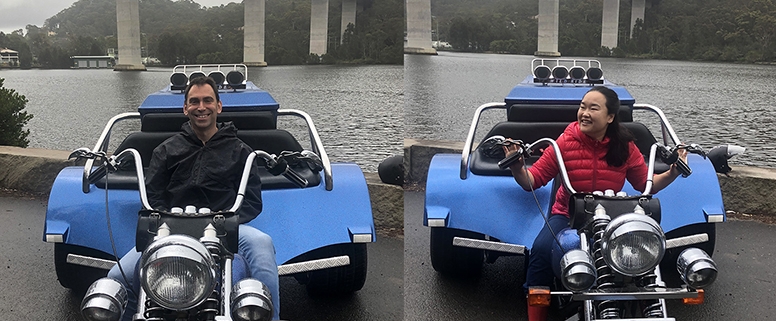 Troll Tours Pty Ltd
This was a birthday gift trike tour for Ben. Having been to Sydney and the sights many times, so decided to stay in their area, south of Sydney. Our trike rider Brian, picked them up from their home in The Shire.
They took an hour to do a big loop! Firstly, they drove over the Alfords Point Bridge and then over the Woronora Bridge. To finish the loop, they rode up to Heathcote Road and back to Connells Point. In conclusion, the birthday gift trike tour was a lot of fun and a great gift.
The Shire
Within the Shire is the birthplace of modern Australia, as it was the first landing site of Lieutenant (later, Captain) James Cook. He went ashore onto what is now the suburb of Kurnell on 29 April 1770. It was originally intended to be the site of the first British Settlement. In the end, Sydney Cove was chosen as the location during the First Fleet. The Shire is actually the Sutherland Shire. However, the residents of the area are very proud and posh, they call it The Shire.
Alfords Point Bridge
Alfords Point Bridge is a twin 445-metre-long (1,460 ft) concrete and steel box girder road bridge. It's a great bridge to ride over!
Woronora Bridge
This is where the photos were taken. The Woronora River Bridge, also known as Woronora Bridge, is a four-lane road bridge that carries River Road across the Woronora River at Woronora. The bridge, at the time of its completion in 2001, was the largest incrementally launched bridge in the Southern Hemisphere with horizontal and vertical curves. The bridge's design was recognised with the Australian Construction Achievement Award in 2002. With a downhill grade of 4.7% at the launching abutment, it has one of the steepest downhill launchings of any incrementally launched bridge. So far, the birthday gift trike tour was a lot of fun even in the rain.
Connells Point
Connells Point and Connells Bay were named after Charles Daniel O'Connell who held land in the area. Originally it was called O'Connells Bay and in the early days, the bay was used for shipbuilding.
https://www.trolltours.com.au/product/design-your-own-ride/
https://www.trolltours.com.au/wp-content/uploads/2022/10/birthday-gift-trike-tour-AnBe1.jpg
591
776
Kat
https://www.trolltours.com.au/wp-content/uploads/2016/08/logo.png
Kat
2022-10-24 16:12:25
2022-10-24 16:15:32
birthday gift trike tour – Anne + Ben 23.10.22