surprise cruise ship transfer – Aaron + Warren 17.03.23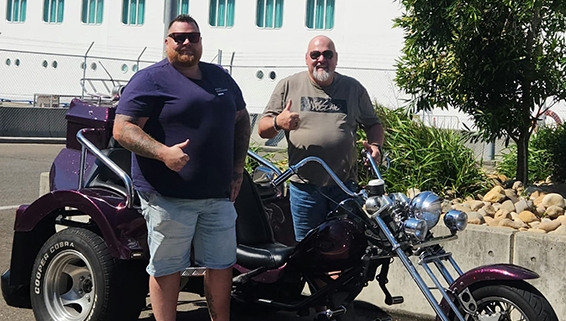 Troll Tours Pty Ltd
The surprise cruise ship transfer was organised by Aaron for his dad. His dad is going on a cruise so Aaron thought it would be a fun way to start the holiday.
Review
"We had the best time and Dean aka Fox, was absolutely amazing. Such a gentleman and a real pleasure to talk to."
Aaron
Raby
Fox picked the passengers up from the Dad's home in Raby. Raby is about 55kms south west of Sydney, near Campbelltown. Raby took its name from Raby Road. In 1976, the Geographical Names Board of New South Wales approved the name 'Raby'.
Prestons
Firstly, they rode through Prestons. Prestons was named after a local Irish family who in the 1910s ran a small post office. The family's maiden name was Preston and they were well known for being friendly and helpful to the small community, donating food and household items to those in need. Hence, their name became synonymous with the post office and in 1972, it officially became the name of the suburb
Liverpool
Riding on, they rode through the well known suburb of Liverpool. It is one of the oldest urban settlements in Australia, founded on 7 November 1810 as an agricultural centre by Governor Lachlan Macquarie. Until the 1950s, Liverpool was still a satellite town with an agricultural economy based on poultry farming and market gardening. However, the urban sprawl of Sydney across the Cumberland Plain soon reached Liverpool, and it became an outer suburb of metropolitan Sydney.
Milperra
Next, they rode through the infamous Milperra. In September 1984, on Father's Day, members of rival motorbike gangs the Comanchero and the Bandidos had a showdown in the car park of the Milperra Viking Tavern, which is technically located in Revesby. This altercation has since been called the 'Milperra Massacre'. Unfortunately, six bikies (bikers) and a 14-year-old girl were killed. So far, the surprise cruise ship transfer was very interesting and fun.
Bankstown
Opened in 1966, this suburb has been expanded a number of times. Bankstown is the seat of major industry including the aviation, engineering and maintenance at Bankstown Airport. In addition, the area Bankstown was named after Sir Joseph Banks, who travelled to Australia with Captain James Cook in 1770.
Ashfield
After that, it was into the inner west suburb of Ashfield. Ashfield's population is highly multicultural. Its urban density is relatively high for Australia, with the majority of the area's dwellings being a mixture of mainly post-war low-rise flats (apartment blocks) and Federation-era detached houses. Amongst these are a number of grand Victorian buildings that offer a hint of Ashfield's rich cultural heritage.
White Bay Cruise Terminal
After riding through more of the inner west suburbs of Sydney, they arrived at the White Bay Cruise Terminal. It's about 6kms west of the Sydney CBD. It opened on 15 April 2013 as a replacement for Wharf 8 on Darling Harbour which closed to make way for the Barangaroo development. The terminal building was constructed within and amongst a twin-beam gantry structure originally constructed in the 1960s for gantry cranes for container use.
However, the 1.5 hrs was up and they had reached their destination. In conclusion, as the review said, they loved their trike tour and the surprise cruise ship transfer was a success.
Thanks to Wikipedia for the information about the suburbs.
https://www.trolltours.com.au/wp-content/uploads/2023/03/surprise-cruise-ship-transfer-AarWar1.jpg
619
566
Kat
https://www.trolltours.com.au/wp-content/uploads/2016/08/logo.png
Kat
2023-03-21 17:01:50
2023-03-21 17:01:52
surprise cruise ship transfer – Aaron + Warren 17.03.23