bucket list christmas gift – Janie + Margaret 18.03.23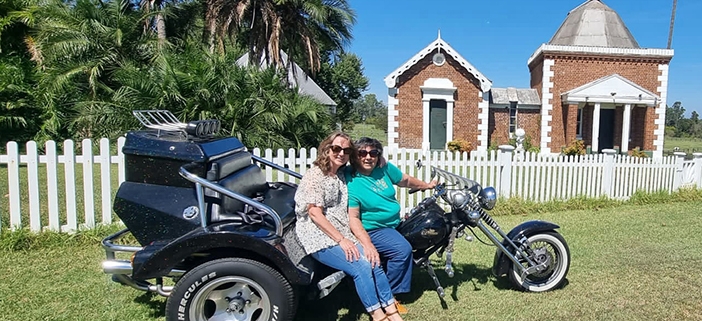 Troll Tours Pty Ltd
The bucket list christmas gift was from Margaret's son and daughter-in-law. They live on the opposite side of the country but wanted to give her something fun and memorable. So they contacted us and we arranged a Gift Voucher to be given to Margaret at Christmas.
Review
"Mum had an awesome time and Syl was fantastic.
Thank you for making Mum's Christmas and bucket list amazing.
Kind regards,"
Janie
Castle Hill
Our rider Syl, picked our passengers up from Margaret's home on Castle Hill. This area has a lot of convict and first settler history. There are quite a number of Heritage listed buildings. Some famous people have lived here (or still do): Patrick White, a deceased Nobel Prize-winning novelist, playwright, poet, short-story writer, essayist. He lived in Castle Hill for eighteen years after World War II.; Ray Warren – sports commentator, nicknamed "Rabbits" or "Rabbs".; Georgia Garnett – Greater Western Sydney AFL Women's player.
Kellyville
Firstly, they rode through the suburb of Kellyville. 36 kilometres north-west of Sydney CBD, Kellyville's origins as a landmark date to at least 1810 with the grant of land and the 1820s construction of the White Hart Inn. The foundations for the Inn remain.
Vineyard
Continuing on, they rode through Vineyard. This suburb takes its name from the vineyards in this area, since this suburb was originally part of Windsor's winegrowing district.
The first vineyard was set up by John Paul Ouvrier (he changed his name from "Jean Pierre Ouvrier" to John Paul when he became a Naturalised Australian citizen in 1860), who had immigrated from France with his 2 sons around the 1830s.
McGraths Hill
After almost 20 kms, they rode through McGraths Hill. It is named after James McGrath, an Irish convict transported to Australia aboard the Hercules in 1802, who purchased property in the area around 1813. So far, the bucket list christmas gift was fun and informative.
Tebbutt's Observatory
Finally, they arrived at Peninsula House and Tebbutt's Observatory, this is a heritage-listed residence and former observatory. The observatory was built in 1845 by John Tebbutt. It was added to the NSW State Heritage Register on 2 April 1999. John Tebbutt (1824-1916) was born at Windsor, educated locally and developed an interest in astronomy. He was inspired by his school teacher, Edward Quaife, who encouraged him. He became passionately interested in mechanical objects and "celestial mechanisms", gradually accumulating instruments and experience. Tebbutt bought his first instrument, a marine sextant, in 1853. He achieved international fame when he was the first to discover the "Great Comet of 1861", announcing his discovery of one of the finest comets on record. In 1862 he refused the position of Government Astronomer for New South Wales because it meant leaving Windsor.
There is so much more information about the observatory online. For a small entry fee, you can have a look inside (check the opening hours before rocking up).
However, the hour was almost up so Syl turned around and took them to Rouse Hill. Here they were dropped off at The Fiddler where they met family and friends. Lunch and relaxing afternoon was to follow. In conclusion, the bucket list christmas gift was a huge success – a lot of fun, memorable and unique. Feel the Freedom!
https://www.trolltours.com.au/wp-content/uploads/2023/03/bucket-list-christmas-gift-JanMar1.jpg
495
702
Kat
https://www.trolltours.com.au/wp-content/uploads/2016/08/logo.png
Kat
2023-03-22 17:34:52
2023-03-22 17:34:54
bucket list christmas gift – Janie + Margaret 18.03.23