surprise 60th Harley tour – Annette + Carrie 10.06.23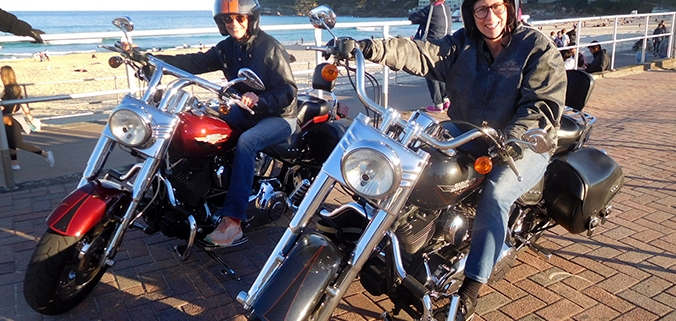 Troll Tours Pty Ltd
The surprise 60th Harley tour present was given to them by a friend, Christine. They and other friends and family, were all celebrating together at the Christine's when suddenly 2 Harley Davidsons turned up. Annette and Carrie received the biggest surprise when they found out the Harleys were for them. They totally loved the surprise and many memories were made. Pick up was in Clovelly, a small beach-side suburb in Sydney's Eastern Suburbs.
Clovelly Beach
Clovelly Beach is a small beach that sits on the end of the narrow bay. The bay is home to one of the first surf lifesaving clubs in the world, Clovelly Surf Life Saving Club, which was founded in 1906.
Bronte Beach and Baths
Firstly, they rode north to Bronte Beach.
Contrary to the popular misconception that Bronte Beach was named after the Brontë sisters, or Bronte House, Bronte Beach was in fact named after the British military figure Vice-Admiral Horatio Nelson, Duke of Bronté. Horatio Nelson was awarded the title of the Duke of Bronte from the King of Naples in 1799 and from that time signed his name as "Nelson and Bronte". (Wikipedia).
The Bronte Baths story begins in 1883 when Waverley Council set aside 150 pounds to build sea baths at Bronte. Before the Baths there was an existing swimming spot in this location, known as 'the bogey hole at South Nelson Bay'. Construction of the Baths commenced in 1887.
Tamarama Beach
Next, they rode further north to the tiny but picturesque Tamarama Beach. It's lovely to look out to the South Pacific Ocean from any of the beaches. Initially known as Dixon Bay by early European settlers, the name was changed to Tamarama in the 1800s. Tamarama is probably a derivation of the Aboriginal name 'Gamma Gamma' (possibly meaning 'storm'), which appeared on maps of the coastline in the 1860s by the Military or Naval Authority.
Bondi Beach
Further north they came to the famous Bondi Beach. Here they stopped for photos (where this photo was taken) and why not with this view! On the left of this photo (not in view) is the the world famous tower of the Bondi Lifeguards of the Bondi Rescue TV series. When in Sydney it is one of the places you should visit. The beach is seriously nice (but not our favourite) and we usually stop near the lifeguard station, made famous by the TV series "Bondi Rescue". Bondi Beach is one of the most visited tourist sites in Australia. Bondi Beach is recorded by the Australian Museum that Bondi means place where a fight using boondi sticks (nullas nullas or fighting sticks) took place.
So far, the surprise 60th Harley tour present is fun and lots of laughs along the way.
Vaucluse
After there, they headed north through the posh eastern suburb of Vaucluse. The first European activity in the area took place not long after settlement, when a makeshift signalling station was set up on the ridge overlooking the ocean. Its role was to signal the colony if a ship was approaching. Pilots based at Camp Cove, Watsons Bay, could then meet the ship and guide it through the harbour. A formal signal station was established in 1790, serviced by a bridle trail that later became Old South Head Road in 1811.
However, the hour was almost up so our Harley Davidson riders turned around and headed south. They went back via a different route.
Rose Bay
The name Rose Bay was used as early as 1788 by Captain John Hunter. HMAS Tingira, named after an Aboriginal word for 'open sea' was moored in Rose Bay from 1912 to 1927. It was used to train over 3,000 Australian sailors, many for service in World War I.
From 1938, seaplane flights to and from London began and terminated in Sydney Harbour on Rose Bay, making it Sydney's first international airport, and what is now Rose Bay Water Airport. On 14 September 1945, nine Catalina flying boats landed and moored at the Rose Bay wharf, repatriating Australian prisoners of war who were survivors of Japanese camps.
We often pick up or drop off passengers at the Rose Bay Seaplanes.
Bondi Junction
Bondi Junction is a largely commercial area which has undergone many changes since the late 20th century. It is interesting to ride through, that's for sure. Bondi is an Aboriginal word meaning water breaking over rocks. It has been spelt a number of different ways over time: for example, Boondi, Bundi and Bundye.
Arriving back at Clovelly, the Harley Davidson passengers were so happy. In conclusion, the surprise 60th Harley tour present was a huge success. A memorable surprise and a lot of fun. Feel the Freedom!
Check out our tours and prices / design-your-own-ride for a fun and happy time. Create new memories with us!
https://www.trolltours.com.au/wp-content/uploads/2023/06/surprise-60th-Harley-tour-AnnCar1.jpg
507
676
Kat
https://www.trolltours.com.au/wp-content/uploads/2016/08/logo.png
Kat
2023-06-10 22:30:59
2023-08-18 08:29:15
surprise 60th Harley tour – Annette + Carrie 10.06.23