Sydney holiday trike tour – John + Vicky 11.06.23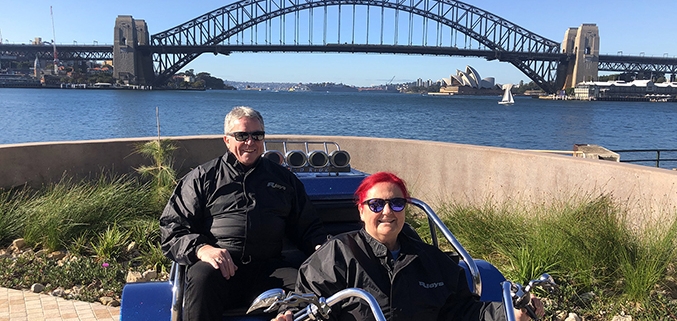 Troll Tours Pty Ltd
The Sydney holiday trike tour is a must do while visiting Sydney – we were told. We have to agree. Our trike and Harley Davidson tours will show you a lot of the beautiful and iconic sights in a short time frame.
Our trike rider picked our passengers up from their hotel in the Sydney CBD.
Sydney Harbour Bridge
Firstly, they rode over the Sydney Harbour Bridge. We always tell our passenger to look up and enjoy the unique view. The more than 6,000,000 rivets are so interesting and the arch is so iconic. It's nicknamed 'The Coathanger' because of its arch-based design. It is the largest steel arch bridge in the world.
This bridge is the eighth longest spanning-arch bridge in the world and the tallest steel arch bridge, measuring 134 m (440 ft) from top to water level. It was also the world's widest long-span bridge, at 48.8 m (160 ft) wide, until construction of the new Port Mann Bridge in Vancouver was completed in 2012.
Blues Point Reserve
Continuing on, they rode on through Milsons Point, did a left hand turn and rode up a few streets. This lead to Blues Point Reserve. The views over Blues Bay towards the Sydney Opera House, the Harbour Bridge and the CBD are just stunning. All the more stunning because of the lovely weather. Another perfect place for photos.
The Kirribilli Loop
Then they rode under the north side of the bridge and continued on their tour. The underside of the northern end of the SHB – Sydney Harbour Bridge – is very interesting. The Kirribilli Loop was finished by riding past Luna Park and the North Sydney Olympic Pool. Back over the Sydney Harbour Bridge on the Cahill Expressway. So far, the Sydney holiday trike tour was the best experience they had done.
Cahill Expressway
The Cahill Expressway was the first freeway constructed in Australia, opening to traffic in 1958. There is a lovely view of both the Sydney Opera House and the Sydney Harbour Bridge. We can't get very close but we know some good angles which give some great scenic views.
Woolloomoolloo
Next, they rode through the inner eastern suburb of Woolloomoolloo and past the famous Harry Cafe De Wheels. Harry's Café de Wheels has been serving customers for over 80 years. They make delicious pies, hotdogs and more. Then it was up the hill and through Kings Cross.
Kings Cross
Finally, they rode through the infamous Kings Cross, though it has calmed down a lot since it's heyday – home of the famous and huge Coca Cola sign. Kings Cross is also home to nightclubs and ladies of the night though it is not nearly as raunchy as it was in the 1970s (apparently). After there, they headed east through the posh suburbs of the eastern suburbs of Sydney, including the Bays: Rose Bay, Double Bay and Rushcutters Bay.
However, the 1 hour was almost up so our trike rider turned around and dropped the passengers back at their hotel. In conclusion, the Sydney holiday trike tour was a fun experience with new memories being made. Feel the Freedom! check out our tours and prices
https://www.trolltours.com.au/wp-content/uploads/2023/06/Sydney-holiday-trike-tour-JoVi1.jpg
508
677
Kat
https://www.trolltours.com.au/wp-content/uploads/2016/08/logo.png
Kat
2023-06-11 17:33:29
2023-06-11 17:33:32
Sydney holiday trike tour – John + Vicky 11.06.23